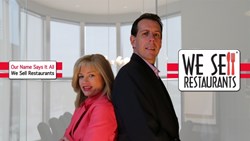 Grandpa did fast food for the masses; Millennials want to serve quick casual meaningful food a la Chipotle.
Atlanta, GA (PRWEB) September 25, 2013
Restaurants for sale may be a closely guarded secret but they are growing in number. We Sell Restaurants, a national restaurant brokerage firm says that while you may never see a "For Sale" sign in a restaurant, brokerage services are on the rise.
In fact, according to these experts, nearly 20% of the nation's 980,000 restaurants are for sale at any given time. Eric and Robin Gagnon are founders of We Sell Restaurants, the nation's largest restaurant brokerage firm. They say restaurant turnover is being driven by three things. "Franchise re-sales are peaking as the heirs of the nation's first franchise class shed their grandparent's legacy brands in favor of newer, cooler concepts," says Robin Gagnon, "Grandpa did fast food for the masses; Millennials want to serve quick casual meaningful food a la Chipotle."
In addition, "Franchisors and multi-unit owners are shedding the least productive units that may not generate high earnings for large operators but are ideal for a single owner who operates day to day." Lastly, says restaurant broker Eric Gagnon,"The glamorization of the restaurant industry on TV has created unprecedented demand for all things foodie, including starting a restaurant."
We Sell Restaurants, the nation's largest restaurant brokerage firm, is franchising nationwide to keep up with the growing need. They operate franchises in Florida, Georgia, Tennessee, and Colorado with demand for more locations daily.
What does it take to become a restaurant broker? According to Eric Gagnon, "Tenacity, determination, sales skills and a background in the business are critical elements." Robin Gagnon agrees. "You have to be willing to negotiate stressful situations between buyers and sellers. Selling restaurants is a tough market where respect is earned by selling one restaurant at a time. With hundreds of sales under our belt, we've earned that respect in the industry."
Each franchise is headed by a Certified Restaurant Broker who undergoes an extensive training program that includes pre and post testing, classroom instruction and field training. The We Sell Restaurants systemic approach to the business includes a proprietary web based platform called The B.O.S.S. or The Broker's Operating and Sales System. The cloud based B.O.S.S. captures all buyer and seller lead activity, provides lead management support, marketing and management reporting along with performance tracking that leads to record results for the firm. We Sell Restaurants has an unprecedented 90% closing ratio on businesses placed under contract versus an industry standard of only 30%.
The We Sell Restaurants franchise program is headed by Eric and Robin Gagnon who are well known industry experts in the field of buying and selling restaurants. They co-authored the book, Appetite for Acquisition that was named Best of 2012 by Small Business Book Awards. Frequent writers and speakers to the business, they host a weekly radio show in the nation's seventh largest media market that is rebroadcast nationwide. Each week they assemble experts to discuss trending topics in the industry. Their Restaurant Reality segment has proven to be highly popular with listeners. This is where the restaurant brokers tackle the unbridled truth about the restaurant business including what they term the unpopular four letter words in the restaurant world, the F-word, Fail and the S-word, Sell.
The company offers individuals the opportunity to become a part of the We Sell Restaurant brand and offers a step by step guide to opening up their own franchise. We Sell Restaurants is currently focusing on expansion in key markets where demand for their service is the strongest and listings are already developed. Interested parties can complete an inquiry on their powerhouse website, wesellrestaurants.com.
About We Sell Restaurants
We Sell Restaurants is the nation's largest restaurant brokerage firm specializing in franchise restaurant re-sales, independent restaurants for sale, and site location for the food service industry. They can be found online at http://www.wesellrestaurants.com