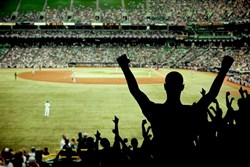 South Windsor, CT (PRWEB) September 24, 2013
With a spot on the playoffs secured as American League East champs, the Red Sox announced Monday that tickets to Fenway Park games for the American League Division Series go on sale Tuesday, Sept. 24 at noon.
There will be a four-ticket limit per fan. No tickets will be sold at the Fenway Park ticket office.
Last Wednesday, the Red Sox offered a "Dollar Beard Night" to fans, offering $1 tickets to people who showed up at the gates with a beard—real or fake—at the Red Sox game against the Orioles. According to MyFoxBoston.com, more than 4,000 tickets sold out 10 minutes after the opening of Gate E, where the tickets were available for purchase.
Boston clinched their champion status in the American League Eastern Division by beating the Toronto Blue Jays on Friday, for a two-out-of-three game win. This is Boston's first Eastern Division title since 2007. Rather than take time off before their first playoff game in October, the Red Sox are determined to finish with the best record in the AL. According to ABC News, the top AL division winner will face a wild-card team that "won't get the chance to line up its pitchers or rest."
With five final games left in the 2013 season, the Red Sox next face off against the Colorado Rockies Tuesday at 8:45 p.m.
All trademarks remain property of their respective owners. TicketLiquidator.com does not claim any right or ownership to any of the names contained in this release. These names are strictly used for descriptive purposes and do not imply an endorsement or partnership.
###
Ticket Liquidator is an online marketplace for tickets to live entertainment events. Since 2003, Ticket Liquidator has provided a selection of event seating inventory which now exceeds $1 Billion. With 7-day Customer Service, PCI and SSL security certifications and a Worry-Free 125% Guarantee and Safety Net Program, Ticket Liquidator ensures that all purchases are made with confidence. Ticket Liquidator is in no way associated with any of the artists or venues listed.