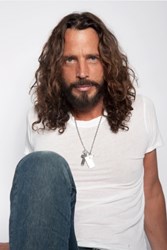 One of the best voices in music history.
Napa, CA (PRWEB) September 23, 2013
Chris Cornell will make a stop in Napa as part of a series of intimate shows highlighting songs he has written throughout his illustrious career. This is the first time US fans will hear acoustic arrangements of songs from 2012's critically-acclaimed King Animal, Soundgarden's first new studio album in over 16 years. Chris Cornell has the ability to connect with listeners like few others of our time. He has maintained his own unique identity over more than two decades as a singer, songwriter, and lyricist, and has contributed to the catalogs of celebrated rock bands Soundgarden, Audioslave and Temple of The Dog.
Chris Cornell is a rock icon who thrives on contradictions. An innovator who resists genre labels, he was nonetheless the chief architect of the 90s grunge movement. Ranked as "one of the best voices in music history," he has successfully maintained his own unique identity over more than two decades as a multi-Grammy award winning musician, Golden Globe nominee and universally acclaimed singer, songwriter and lyricist.
As a solo artist, Chris has contributed original songs to multiple movie soundtracks, including the 2013 summer blockbuster Man of Steel, and became the first American male singer to write and perform the theme song for the James Bond franchise in Casino Royale. He was recently nominated for a Golden Globe for his original song, "The Keeper" written for the film Machine Gun Preacher and wrote the song "Live to Rise" performed by Soundgarden in the mega-hit Disney film The Avengers. Cornell also had the honor of performing at the 2008 Kennedy Center Honors Gala, and at the 2013 Obama Presidential Inaugural Ball.
Tickets for Chris Cornell: Solo Acoustic Songbook Tour plus Bhi Bhiman are $65. They are on sale now and can be purchased through the theatre website at http://www.uptowntheatrenapa.com, at Ticketmaster (http://www.ticketmaster.com) or at the theatre box office (please call 707.259.0123 ext. 6 for hours). To find out more, please visit http://www.uptowntheatrenapa.com.
The Uptown Theatre Napa is downtown's ultimate destination for live concerts. Nestled in the famed West End district, this stunningly restored art deco masterpiece showcases only the finest acts, featuring music, comedy and more. An historic landmark, the Uptown offers a phenomenal, intimate live show experience, with excellent site lines and world class sound and lighting. As concert venues go, this is the place to be. Every seat is a great seat so buy concert tickets now!