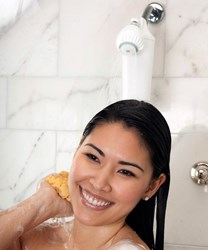 "One of the most important things you can do for your hair is to wash it with filtered, chlorine-free water." -River Lloyd, celebrity stylist of the John Frieda Salon in New York.
Austin, TX (PRWEB) September 25, 2013
As your summer attire and surf boards get stored away, your skin and hair are left to deal with the repercussions of three months of overexposure to natural elements. From the blazing temperatures to over-chlorinated pools, skin cells and hair follicles are dried, burnt and ready for some special treatment.
Step 1: Exfoliate/Start Fresh
If you're putting moisturizer on your skin and feel like it doesn't reach below the surface, it's likely that dead skin cells are lingering around. Skin care experts are buzzing about rotating cleansing brushes, which will gently remove dead cells without further damaging your skin. Try using glycolic or lactic acids, which are enzymes in products that gently melt away dead skin.
The quick and easy way to treat those dreaded split-ends is to cut off an inch or two and start fresh. To maintain the soft, healthy strands, reduce the chlorine in your shower water. Aquasana shower filters remove chlorine chlorine to help to retain hair and skin's natural protective oils while enhancing the performance of health and beauty products.
Step 2: Lock in Oils
Low moisture in the air causes your skin and scalp to be dry and itchy. Using a humidifier to increase moisture in the air will have you looking and feeling much better from head to toe. Another way to prevent dry skin and brittle ends is to reduce the heat in your daily shower. Though hot water feels great in cold temperatures, using lukewarm water avoids stripping as many oils away from the skin and hair.
Step 3: Nourish
Once you've said goodbye to dead skin cells, it's important to maintain healthy skin throughout the dry winter months. Though the sun is not beaming down daily, it is still important to apply sunscreen daily to protect against UVA rays – the kind that penetrate the skin and promote collagen breakdown – which remain just as strong throughout the winter months. Aquasana shower filters reduce harmful effects of chlorine and synthetic chemicals that can contribute to premature aging of skin.
The countless trips to the pool and beach have your hair crying for some damage control. If cutting off an inch or two isn't in your plan, ramping up moisture is key. Stylists recommend you treat your scalp to a deep conditioning moisturizer twice a week to ensure the elasticity in your locks remains throughout the cold, dry months ahead. An all-natural alternative is to soak your hair in coconut oil for 30 minutes.
About Aquasana
Aquasana is a leading water filtration company with the sole focus of providing best-in-class water filtration products so everyone can enjoy great-tasting, healthy water. Based in Austin, Texas, the company markets drinking water filters, shower filters, and whole-home water filter systems that remove over 60 harmful contaminants from water including chlorine, chloramines, herbicides, pesticides, industrial solvents, lead, and mercury. Aquasana water filters are engineered to preserve the healthy minerals in water, which include calcium, magnesium and potassium resulting in healthy, great-tasting water. For more information visit http://www.aquasana.com. - See more at: http://www.aquasana.com/blog/2013/06/shower-like-a-celeb/#sthash.JkBEuKUI.dpuf