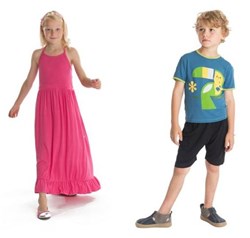 (PRWEB) September 24, 2013
KicKee Pants, a longtime favorite for children and parents looking for ultra-comfy, breathable clothing in fun and fashion-forward styles, is excited to announce they've had a growth spurt! Launching in Spring 2014, Catch a Tiger by KicKee Pants is a new addition to the KicKee Pants family, offering adorable prints and fun color selections for boys and girls in sizes 5-10.
Catch a Tiger clothing is made from the same incredibly soft viscose from bamboo that KicKee Pants is famous for, but now designed for older kids. The 2014 Spring collections are a celebration of travel and summer family fun. The first collection, Getting There is Half the Fun, takes us back to a time when the anticipation of a trip was just as memorable and exciting as the trip itself. Mermaids, treasure hunting and a ballet in the clouds, complemented with fun prints featuring mopeds, airplanes and hot air balloons, create the fantasy of travel where a child's imagination comes to life. Here, anything is possible! But the trip isn't over yet.
The second collection, Exploring the World, is a reminder of the experiences of a warm weather vacation. Colorful print tees and pajamas feature images of sharks, lizards, hummingbirds and more.
Girls will appreciate the feminine yet comfortable dresses, which allows them to be both 'grown up' while still perfectly appropriate. Boys will enjoy the cool graphic prints and the relaxed fit and feel. The family owned company allows kids to be kids and truly celebrates the innocence of childhood.
KicKee Pants founder and designer Erin Cloke says, "Kids grow within a blink of an eye and we are excited to be growing right along with them. Catch a Tiger by KicKee Pants is in response to the many requests from our longtime customers for larger sizes and styling appropriate to older kids, while still maintaining the dreamy innocence the KicKee Pants is known for."
The line can be found in boutiques throughout the United States, Canada, the UK and Australia. More information is available online at http://www.kickeepants.com.
EDITORS:
We are happy to send line sheets and samples of KicKee Pants products for your editorial fashion needs. Please contact us below if you would like to feature KicKee Pants in your upcoming fashion spreads.