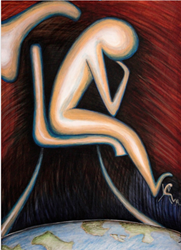 In order for us to save our fellow beings, we need to find ourselves.
Santa Clara, CA (PRWEB) September 25, 2013
Following her successful solo exhibition on "Women's His-story" at University of Illinois Chicago, influential artist, and ecological and feminism advocate Sujata Tibrewala has moved her practice to the bay area where she hopes to spread her message of equality through her art.
Sujata Tibrewala's art illustrates that the ability to make connections and identify patterns is critical to make positive changes in the way that society functions. Through her art, she communicates the importance of observing one's surroundings, learning what is wrong with them, and then taking action to right the wrong. Her dream is a world akin to feminine-love based connections as opposed to authority based hierarchies.
Her art seeks to inspire people to shatter the hierarchy and start seeing the universal connection we all have with the cosmos and with each other, which is taught by all major religions, but often ignored in the clamor of external differences. This passion for the human connection and raising one's voice is what Sujata Tibrewala's art stands for.
Tibrewala was born and raised in India and is an engineer by profession but an artist by soul. Her work has crossed the boundaries of India all the way to the US. Her passion for art has touched the hearts of connoisseurs all over the world.
Sujata has shown her skills at various venues, including Regional Arts Commission, St Louis, Gateway Gallery, Clayton, Naperville Art League, Lalit Kala Kendra New Delhi, Jawaharlal Kala Kendra New Delhi etc. and her work has been featured on cover of BROAD "A feminist and Social Justice" Magazine, published by Loyola University, Chicago, and has been the subject of various US and Indian newspapers including Examiner, Pioneer, St Louis Art Beacon, Lake View Patch, Hindustan Times, Indian Express, Everything is Art and many more. To top it all off, she has been featured on electronic media by TV Asia, Delhi Doordarshan, TV9 and I have a voice TV, Currently her work is on view at Life Force Arts, Chicago.
She encourages people to support the causes close to their heart by matching the donation or time equivalent of their volunteer work with an equivalent discount of up to 50% in the price of her art work.
Her work can be viewed at http://www.pratibimba.in