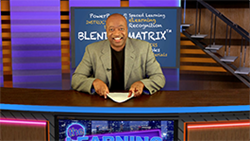 I'm almost ready to make the assumption that we'll always use electronics, we'll always use face to face. Maybe at some point, the "E" will go away.
Burbank, California (PRWEB) September 24, 2013
Talk show host, Leigh Gregory is back with another episode of The Learning Show™, the training industry's de facto internet talk show. And this time, he's riffing on gameful learning, sharing the latest statistics on manager meetings; and talking with learning futurist, Elliott Masie.
"One of our goals is to champion workplace learning in all its forms. We do that by talking to the current and emerging thought leaders in the space. And, you can't say the phrase 'thought leader' without Elliott Masie coming to mind. We're stoked to have him on the show," said Leigh.
It was over 20 years ago, that Elliott originated the word, "eLearning." And that word became the name for a training method and an entire industry. And Elliott continues to stand at the forefront of the movement to deliver quality learning in as many innovative and engaging ways as possible. Along the way, he's brought his insights to the Department of Defense and to the White House during initiatives to expand learning opportunities to all people. To that end, he used the Learning Show to introduce the emerging concept of "personalized learning."
"We're expanding out the definition of what eLearning is. And it's evaporating, I hope, in an ironic way. I hope we just talk about 'Learning'. I'm almost ready to make the assumption that we'll always use electronics, we'll always use face to face. Maybe at some point, the "E" will go away," said Elliott, while outlining how learning will be "personalized."
"I'm excited about Elliott's concept of personalized learning. And I can't wait to see how our industry responds creatively and technologically to this bold philosophical pivot," said Marguerite Gregory, co-founder of Trainevision and executive producer of The Learning Show.
Elliott Masie will host Learning 2013, his annual learning conference, from November 3 – 6 in Orlando, Florida. George Takei is a special presenter and the featured keynote address will be delivered by former Secretary of State, Hillary Rodham Clinton.
The Learning Show™ is brought to you by Trainevision, Inc. The Elliott Masie episode is available now on Trainevision's website, Facebook page, and YouTube channel. Stay tuned for upcoming episodes featuring the industry's thought leaders, disruptors and shape shifters.
About Trainevision
Trainevision, Inc. is a performance improvement company located in Burbank, CA. Trainevision produces off-the-shelf video heavy eLearning, Streaming and DVD learning solutions for small, medium and large companies that are looking to improve the soft skills performance of their employees. For more information, visit https://www.trainevision.com. Follow @Trainevision on Twitter, link up on LinkedIn, and like them on Facebook!