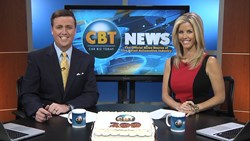 Atlanta, GA (PRWEB) September 24, 2013
CBT News (Car Biz Today) is celebrating its 200th newscast on Tuesday, September 24th. CBT anchors, Russell Brown and Bridget Everett review exclusive interviews and discuss the future plans for the company.
"The news and information we have provided over the last 200 shows has received tremendous feedback from our dealer viewers," Everett says. "I am looking forward to the next 200, where we will have even more in-depth interviews with industry leaders and event coverage such as the upcoming NADA Convention in New Orleans."
CBT News is rapidly growing and has more than 70,000 subscribers. In addition to the newscast, the site is full of information for dealers, including sales tips, video clips and articles highlighting topics like social media marketing, inventory management, fixed ops and more.
"We produce a lot of great content, and this accomplishment wouldn't be possible without the team we have here at CBT News," Brown says. "We've come a long way and I'm excited for what's ahead."
To see the 200th newscast, visit http://www.cbtnews.com.
ABOUT CBT NEWS:
CBT News (Car Biz Today) is an online news source dedicated to providing the retail automotive industry with news, training and event coverage through various forms of multi-media journalism. The online news source caters information to car dealers and their personnel. CBT News is home to award winning broadcasters, Russell Brown and Bridget Everett, and is headquartered in Atlanta, Ga.