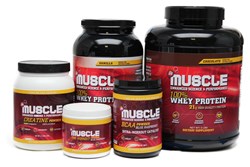 Las Vegas, NV (PRWEB) September 24, 2013
Wellness and supplement manufacturer DrVita announces their new performance-enhancing brand, DrMuscle, will premiere at the 2013 Mr. Olympia Show from October 26-29 in Las Vegas. DrMuscle products are scientifically formulated to maximize effectiveness, made in DrVita's new, state of the art GMP-certified facility in Las Vegas, Nevada, and all delivered at a competitive price.
The DrMuscle product line includes:

Chocolate Whey Protein - delivers 21 grams of protein, including 4 grams of naturally occurring Branched Chain Amino Acids (BCAAs) per serving. The whey protein also contains Aminogen® for better digestion and absorption. Aminogen® enhances the body's absorption process by breaking peptide bonds, which attach amino acids to protein molecules.
(5lbs- 75 servings - $59.99; 2lbs- 30 servings - $39.99)

BCAA Powder (Blue Raspberry flavor) - The most advanced sugar and carbohydrate BCAA powder scientifically formulated to maximize training intensity and promote optimal muscle protein synthesis and recovery while you train. DrMuscle BCAA Powder contains 7000 mg of BCAAs in an ideal 2:1:1 ratio of Leucine:Isoleucine:Valine. It is easy to mix and tastes great!
(30 Servings - $19.99)

DrMuscle Pre-Workout (Blue Raspberry flavor) - DrMuscle's Pre-Workout is powdered energy. Using effective ingredients such as creatine nitrate, beta alanine, and arginine akg, our advanced pre-workout supplement will help fuel your workouts day after day.
(30 Servings - $19.99)

Creatine (unflavored) – Specially formulated for bodybuilders and athletes, DrMuscle Creatine Monohydrate is unflavored, mixes well, and improves your workout by supporting energy production. Made with Creapure ® Creatine, the premium brand for creatine worldwide.
DrMuscle will be offering samples of their new products, as well as giving away new iPads at the Mr Olympia in Booth 671.
About DrVita
DrVita.com is an online wellness store featuring top quality vitamins, supplements, health foods, beauty and personal care products. Based in Las Vegas, Nevada, DrVita offers a huge product selection and a state of the art, Good Manufacturing Practices certified in-house lab which tests every supplement the company sells in relentless quest for quality. Additionally, DrVita sells and manufactures a full range of wellness products under their own DrVita brand and the DrMuscle line dedicated to the bodybuilding and athletic community. All DrVita purchases include Everyday Free Shipping.