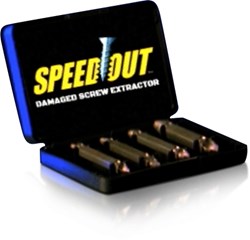 Pacoima, California (PRWEB) September 24, 2013
Nothing slows down a project more than a stubborn stripped screw or broken bolt head. SpeedOut, now provides the perfect solution with the SpeedOut™ damaged screw and bolt remover. SpeedOut is a must-have for home do-it-yourselfers, hobbyists, boat owners, mechanics, carpenters and more. Easy to use, just snap it onto an electric drill and it removes all types of stripped screws – Philips heads, flat heads, hex heads, even painted-over heads – in ten seconds or less.
"Trying to get out damaged nails and screws is time-consuming and frustrating, and can even lead to personal injury," said Gary Sandberg, DRTV Campaign Management Director at Infomercials, Inc., which produced the instructional video that can be viewed at http://www.buyspeedout.com. "With SpeedOut, you can now easily and safely remove them in seconds – just snap the tool onto any drill and the headache of a stripped screw is a thing of the past!"
SpeedOut works in two easy steps: Simply drill out the area with the SpeedOut's cutting end, then flip the tool around and the extracting end pulls it right out. What makes SpeedOut unique is that its cutting end makes a perfect cone in the screw, creating an ideal surface for the extracting end to grab onto. In fact, this patented process works so well it can even remove four-inch-long, stubborn deck screws out of redwood. Even if the entire head of a screw or bolt is broken, it still comes right out.
About SpeedOut and Ordering Information
SpeedOut™ is ideal for easily removing stripped screws and broken bolt heads – it's fast and hassle-free. For a limited time, the entire SpeedOut kit is now just $19.95 plus FREE SHIPPING. The kit includes four different sizes of SpeedOut extractors for every situation. Each SpeedOut bit is made of durable, professional grade hardened steel and comes with a lifetime guarantee. If it ever breaks, it will be replaced at absolutely no cost. Avoid the wasted time and frustration of stripped screws and broken bolt heads – go to http://www.buyspeedout.com to order it today!