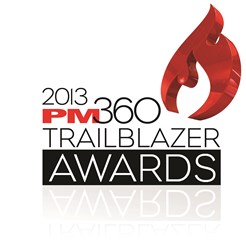 The people and companies in this industry deserve to be celebrated for their ability to be innovative, creative and ground-breaking.
New York, NY (PRWEB) September 24, 2013
PM360, a leading health-marketing industry trade magazine, recognized the best innovators in the pharmaceutical industry with their annual Trailblazer Awards on Friday, September 20, 2013. The honors, bestowed at a gala banquet at Gotham Hall in New York City, are given to outstanding companies, marketers and brand managers representing top talent and brands.
"The people and companies in this industry deserve to be celebrated for their ability to be innovative, creative and ground-breaking," says Anna Stashower, CEO and Publisher of PM360. "This year's winners displayed all of those qualities while proving that this industry is in good hands thanks to an abundance of strong leaders and bright thinkers."
This year's winners continue the tradition of honoring pharma marketers for their exceptional forward thinking. The Pharmaceutical or Biotech Company of the Year went to Novo Nordisk, while Aurora Archer, Senior Director Marketing Services at AstraZeneca, was named the Trailblazer Marketer of the Year for her visionary leadership of the company's Marketing Services organization that she established in 2012. This year's PM360 Lifetime Achievement Award went to Dr. P. Roy Vagelos, the Retired Chairman of the Board and CEO of Merck and Current Chairman of the Board of Regeneron Pharmaceuticals.
"Roy Vagelos has a life-long history of both medical and business innovation, philanthropy and outstanding leadership," explains Stashower. "Under his watch at Merck, he was responsible for launching the first statin, thereby greatly reducing worldwide cardiovascular incidents. He also brought an end to River Blindness and led Merck to its pinnacle of success, garnering the respect of its peers."
Entries are judged and winners selected by the PM360 Editorial Advisory Board, a cross section of experts from across the industry. Winning entries were judged based on content, format, success in reaching targeted audience, and overall quality. Each distinguished themselves in their ability to stand out in the complex healthcare environment. The Marketer of the Year award singles out the individual who best exemplifies the most insightful, forward-thinking, and transformative marketing ideas and actions in the industry. PM360 will publish profiles of this year's Trailblazer winners in a supplement to its October issue.
This year's PM360 Trailblazer winners include:
LIFETIME ACHIEVEMENT AWARD RECIPIENT
Dr. P. Roy Vagelos, Retired Chairman of the Board and CEO of Merck and Current Chairman of the Board of Regeneron Pharmaceuticals
MARKETER OF THE YEAR
Aurora Archer, Senior Director Marketing Services, AstraZeneca
COMPANY OF THE YEAR: PHARMACEUTICAL/BIOTECH
Novo Nordisk
COMPANY OF THE YEAR: MEDICAL DEVICE
GE Healthcare
COMPANY OF THE YEAR: ADVERTISING AGENCY
Klick Health
COMPANY OF THE YEAR: SUPPLIER/VENDOR
PSKW
COMPANY OF THE YEAR: SPECIALTY PHARMA/BIOTECH
Acorda Therapeutics, Inc.
BRAND CHAMPION AWARD WINNERS
Autoimmune: Kaye Kugler of Santarus for Uceris
Cardiology: Margaret-Sarah Alexander of Boehringer Ingelheim for Pradaxa
Central Nervous System: Thomas Flaten of Eisai for Banzel and Fycompa
Dermatology: Carlos Dortrait of Janssen Biotech for Stelara
Diabetes/Metabolic Diseases: Amy West, Associate Director, Patient Relationship Marketing Diabetes Marketing, Novo Nordisk
Hematology/Oncology: Robert Greif of rEVO Biologics for ATryn
Infectious Diseases: Laura Polin of Pfizer for Prevnar 13
Innovation: Albert Bourla of Pfizer for the Established Products Business Unit
Medical Device: Lothar Krinke, PhD, VP & GM at Medronic for Deep Brain Stimulation
Managed Markets: Mark Miller of Allergan for the HealtheHorizons Program
Ophthalmology: Brittany Cassin of ThromboGenics for Jetrea
Pain/Inflammation: Ali Martin of Genentech for Actemra
Respiratory: Christopher Connolly of Boehringer Ingelheim for Combivent Respimat
INITIATIVE AWARDS
APP
ePatCare (Boehringer Ingelheim, infill Kommunikation)
CONSUMER WEBSITE/ONLINE INITIATIVE
Divigel (Upsher-Smith, Mc|K Healthcare)
DIRECT MAIL CAMPAIGN
Fortesta Gel Application Tool Mailer (Endo, GSW)
DTC CAMPAIGN
Intermezzo Campaign (Purdue, AbelsonTaylor)
DTP CAMPAIGN
Perjeta Patient Campaign (Genentech, Sudler & Hennessey)
INTERACTIVE MARKETING CAMPAIGN
iRep Interactive Sales Program (Wockhardt USA, Strategic Edge Communications, a Division of MD On-Line, Inc.)
PERSISTENCE PROGRAM
AstraZeneca Copay Program (AstraZeneca)
PR CAMPAIGN
USAGE Survey: Taking on America's Number One Killer (Kowa Pharmaceuticals America, Inc. and Eli Lilly and Company with Makovsky)
PRODUCT LAUNCH
Nicox AdenoPlus (Nicox, Dudnyk)
PROFESSIONAL CAMPAIGN
"Why Wait" Campaign (Boehringer Ingelheim, Pfizer, and Draftfcb)
PROFESSIONAL WEBSITE/ONLINE INITIATIVE
Ampyra-HCP Site (Acorda Therapeutics, Klick Health)
SELF-PROMOTION CAMPAIGN
ConvergentTimes (The CementBloc)
SOCIAL MEDIA CAMPAIGN
Cetaphil Virtual Office Hours (Galderma, Intouch Solutions)
UNBRANDED CAMPAIGN
"Ask About the Curve" Campaign (Auxilium, LehmanMillet)
VIDEO
Arthritis Health Monitor TV (Health Monitor Network)
About PM360
PM360 is the premier source for information that product managers and pharma marketing professionals need to succeed in the complex, ever-changing healthcare environment. PM360 offers invaluable perspective on important industry issues through a full-circle combination of how-to information and thoughtful career insights. The PM360 Trailblazer Awards span five categories, including Company of the Year, Lifetime Achievement, Marketer of the Year, Brand Champion Awards and Initiative Awards.