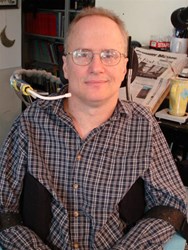 John brings long term experience on key issues Not Dead Yet addresses as well as top-notch communication skills.
Boston, MA (PRWEB) September 24, 2013
Not Dead Yet has hired John Kelly as regional director for advocacy in the New England states. Kelly is also director of Second Thoughts Massachusetts, a disability rights group which played a pivotal role in defeating an assisted suicide ballot referendum in Massachusetts in 2012.
John Kelly was highly visible as an advocate against the ballot initiative known as "Question 2". Confounding assisted suicide proponents who often tried to depict assisted suicide opponents as conservative, Kelly simultaneously supported Question 3 to legalize medical marijuana while opposing Question 2. The Second Thoughts home page even featured a bumper sticker with the "No on 2/Yes on 3" message and related graphics.
Kelly appeared in several debates against Dr. Marcia Angell, a leading advocate for assisted suicide, including a broadcast interview of the two of them on National Public Radio's "All Things Considered". His insights into life with quadriplegia were also sought out by CNN International in connection with coverage of the high-profile assisted suicide case involving Tony Nicklinson in the UK.
Kelly has also written a number of published articles and opinion pieces on assisted suicide.
Since the defeat of the Massachusetts assisted suicide initiative in November 2012, Kelly has worked with disability advocates to oppose assisted suicide bills in both Connecticut and Vermont, testifying on behalf of both Not Dead Yet and Second Thoughts.
"John brings long term experience on key issues Not Dead Yet addresses as well as top-notch communication skills to his new position," said Diane Coleman, Not Dead Yet president and CEO. "We're very fortunate to be able to expand his role in our efforts."