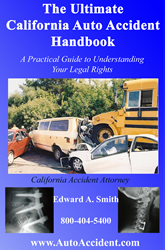 Sacramento, California (PRWEB) September 26, 2013
On September 21, 2013 it was reported on Sacbee.com that a young woman died in West Sacramento after she was ejected from a vehicle during a roll-over crash. The collision occurred during the early morning hours.
Most rollover incidents are caused by driver error. Occupants in the rollover vehicle have legal cases against the driver for negligence.
Sadly, ejections from a vehicle can occur even though occupants of a vehicle were seatbelted. Factors that contribute to fatalities in rollover accidents increase in vehicles with roof conversions, light trucks and vans.
In many fatal rollover accidents, there are valid claims against the car manufacture for products liability.
The Law Offices of Edward A. Smith (AutoAccident.com) has been handling serious injury and death cases since 1982.
Mr. Smith is rated 10.0 by Avvo.com and is the author of the California Ultimate Auto Accident Handbook, which is available at Amazon.com.