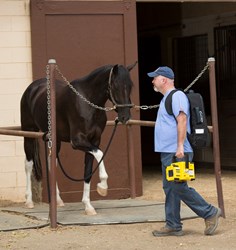 "Sprint™ has opened up greener pastures for my practice as I can now reach clients and patients wherever they may be. 100% battery power operation increases revenue and simplifies my diagnostic process." Dr. Leslie Schur, DVM Desert Pines Equine Ctr.
Carlsbad, CA (PRWEB) September 25, 2013
"Sprint™ provides equine veterinarians speed and flexibility they've never had before. In our efforts to redefine the equine imaging experience, we've gone directly to users and industry professionals to assess exam workflow, technology trends and practitioners' evolving needs. The Sprint™ offers flexibility without sacrifice, utilizing wireless data transfer technology, combined with completely unplugged battery power allowing the user to acquire and review images nearly anywhere, anytime at half the weight of traditional wireless DR systems," says Tom Jacobi, President of Sound-Eklin.
Sprint Ultralight DR™ boasts the industry's first deployment of the Apple® MacBook Pro® with Retina® display, considered the best display in the world and all-flash storage, which is faster and far more reliable than a traditional hard drive. Combining Sprint's state of the art hardware with SoundSafe™, the original and largest veterinary image cloud enables users to quickly upload, manage and share images with colleagues and clients.
For more information about the Sprint Ultralight DR™, please visit http://www.soundeklin.com/sprint
DR or digital radiography uses a digital detector panel to convert X-ray information into digital images. DR panels have historically been wired to an acquisition computer and the computer is plugged in to a power source. A synchronization cable is also used to connect the X-ray generator to the acquisition computer. With the recent advent of wireless systems, the DR panel cable has been removed but the acquisition computer has still required plug in power, leaving the user tethered to a power source. Sound-Eklin's Sprint™ has taken wireless a step farther and created a 100% wireless solution including battery power, wireless panel and wireless synch to the generator, a true leap ahead in the industry.
About Sound-Eklin
Based in Carlsbad, California, Sound-Eklin® produces the most widely accepted and used digital radiography, ultrasound and PACS systems in the veterinary industry with more than 10,000 installations. Sound-Eklin® holds leadership positions in Ultrasound, Digital Radiography, and Education. Sound-Eklin's® Academy of Veterinary Imaging has conducted over 9,000 student trainings.
Sound-Eklin is a division of VCA ANTECH, INC. and is dedicated to the field of veterinary imaging and education. VCA ANTECH also owns, operates and manages the largest network of freestanding veterinary hospitals and veterinary-exclusive clinical laboratories in the country and employs approximately 12,000 professionals throughout North America.
Apple, MacBook Pro and Retina are trademarks of Apple Inc., registered in the U.S. and other countries.http://www.soundeklin.com