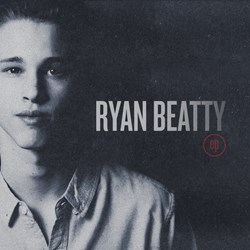 Los Angeles, CA (PRWEB) September 24, 2013
Young music sensation Ryan Beatty released today his second EP, which is available for pre-sale today exclusively on iTunes and releases worldwide on all digital retailers this October 8th. The self-titled EP, "Ryan Beatty", includes four brand new tracks from the YouTube wonder-kid who has toured internationally and gained a loyal social media following, with more than 420,000 Twitter followers, all without being signed to a label. The EP will be released independently and distributed through Ingrooves Fontana; it is available for pre-sale on iTunes today [https://itunes.apple.com/us/album/ryan-beatty-ep/id704476728?ls=1, and fans that purchase during the pre-sale are rewarded with an immediate download of the new track "Chameleon."
The release of his sophomore EP comes just one day before Beatty turns eighteen, inviting fans to celebrate along with him. One of the standout tracks on the EP is "Chameleon", an upbeat track that explores Beatty's musical range and for which he released a lyric video last week that premiered on Vevo http://www.youtube.com/watch?v=seSg59jzzQs. New track "Underdog" also holds a special place in the singer's heart as it was inspired by his work to help motivate kids to stand up to bullying and help peers to overcome adversity.
Beatty set out to record the EP after demand grew from fans for new music. As Beatty is finalizing the completion of his debut album, due out in 2014, the EP offers fans a taster of what to expect. The new tracks, which he developed after experimenting with various sounds and production styles, offer listeners a more mature and developed sound than before. After premiering a few songs while on 'The Paradise Tour' with Cody Simpson, the EP caused a frenzy, prompting fans to hashtag #ryanbeattyep more than 75,000 times on Twitter and Instagram.
"I'm so excited to share this music and let people hear the new sounds I've been working on," Beatty said. "I've been fortunate to work with very talented producers and writers who've all challenged me to develop my music and sound and I feel this EP really shows how I've grown. I'm excited to release it and give a preview of what's coming up on my album."
As a huge fan of Frank Ocean's album, "Channel Orange", Beatty was grateful to be able to work with the album's Grammy Award-winning producer, Om'Mas Keith. Keith produced the multi-layered and sophisticated track "Underdogs", born out of Beatty's own reflection of the cruelty kids can show to one another and the importance of staying true to one's own individuality.
"Working with Ryan Beatty was one of my most pleasant experiences as a producer, engineer and composer," said Keith. "Boundless creativity, superb vocal ability and meticulous musicianship are at his core as an artist. I think it's important to note that Ryan really cares about music and I think that it is his relentless pursuit of excellence that will assure his long term staying power. Ryan in a word is awesome!"
Beatty also partnered with some of his favorite writers and producers in the process of making the EP, including Julian Emery, Jim Irvin and Justin Trugman, in addition to one of his favorite artists, Lissie. The EP was mixed by Grammy winning engineer Jeff Ellis and was mastered by Chris Bellman at Bernie Grundman Mastering.
"I had such a great time writing with Ryan," Lissie commented. "From the first note that came out of his mouth, I could see that he was a very talented guy. Not only does he have a great voice, but he's smart and has a perspective that made it a real pleasure to write lyrics with. There's no doubt he will be a huge success!"
Beatty is currently in London recording his debut album. He will perform acoustic tracks from the EP tonight at the Apple Store on Regent Street where the RSVP list for the free event hit capacity immediately. He'll return to the states to celebrate his birthday with fans in New York City with a birthday party given by DoSomething.ORG, before embarking on his first headlining tour in November. Pre-sale tickets for Ryan's tour with Atlantic Recording artist Plug In Stereo supporting are available exclusively through Citi Private Pass all this week. citi.us/1aRfgUx
To pre-purchase the "Ryan Beatty" EP, please visit https://itunes.apple.com/us/album/ryan-beatty-ep/id704476728?ls=1. The EP will be available for purchase on October 8th.
For more information on Ryan Beatty and to purchase tickets for his upcoming headlining tour, please visit http://www.theryanbeatty.com or follow him on Facebook http://www.facebook.com/ryanbeatty; on Twitter at @theryanbeatty; and on Instagram at Ryan Beatty.
Media Contact:
Miller PR
Morgan Tongish
morgan(at)miller-pr(dot)com
323.761.7242
About Ryan Beatty
http://www.theryanbeatty.com
Ryan Beatty, the 17-year-old singing sensation from Clovis, CA has built an uncanny following and buzz within the entertainment industry as a breakout star. His debut EP "Because of You" hit #1 on the iTunes Pop Album charts and #7 on the Top Album charts and since then has sold more than 200,000 tracks and has been streamed more than 2 million times.
Beatty recently wrapped touring with Cody Simpson on the Paradise Tour after hitting more than 30 cities across the US and is in the process of completing his debut album. He is currently a spokesperson for AT&T's national "It Can Wait" campaign to stop texting & driving and his PSA is airing nationwide and acts as an ambassador for DoSomething, TOMS and Defeat the Label, an organization aimed at motivating teens to stand up to bullying.
RYAN BEATTY FALL 2013 TOUR DATES
November 29 - Los Angeles, CA El Rey Theatre
November 30 - Phoenix, AZ Nile Theatre
December 1 - El Paso, TX Tricky Falls
December 4 - Dallas, TX The Door
December 5 - Houston, TX Warehouse Live Studio
December 6 - Memphis, TN Hi Tone Care
December 7 - Chattanooga, TN Rhythm & Brews
December 8 - Washington, DC Jammin Java
December 12 - Boston, MA Brighton Music Hall
December 13 - Toronto, Canada The Opera House
December 14 - Montreal, Canada La Tulip
December 15 - Albany, NYC The Hollow
December 19 - Philadelphia, PA Theatre of the Arts
December 20 - Red Bank, NJ Count Basie Theatre
December 21 - NYC, NY Marlin Room
December 22 - Hamden, CT The Space