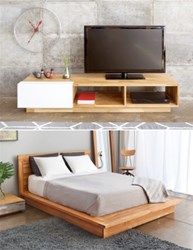 (PRWEB) September 24, 2013
MASHstudios, the multi-disciplinary design firm specializing in commercial and residential furniture design and manufacturing, unveils new additions to their popular LAX and PCH series today.
The LAXseries collection now includes the low entertainment shelf, an entertainment cabinet that will simplify your home as technology complicates it. The sturdy, open shelf will keep your gadgets and electronics organized, while the powder coated sliding aluminum cover will conceal the rest.
Also available now is the PCHseries Headboard Bed. Crafted from plantation grown solid teak and finished with natural oils, the Headboard Bed emits tranquility from every board.
"We feel that your home should be a sanctuary from the outside world, free from the clutter and stress that surround us," says Bernard Brucha, Founder and Principal Designer, MASHstudios. "These new pieces are natural extensions of the work we have been exploring – the balance of heft and lightness, with the effect of effortless design."
MASHstudios will add several more pieces to both LAX and PCH through the rest of 2013, including an adjustable table, buffets and special editions and configurations of popular designs like the LAX 3X Shelf and Entertainment Shelf.
About MASHstudios:
MASHstudios is a multi-disciplinary firm specializing in furniture design and manufacturing. MASH prides itself for taking on projects that push the creative envelope and they consistently work with clients who are changing the social climate. Current projects range from the creation of unique office environments and retail spaces to designing sleek residential furniture lines.