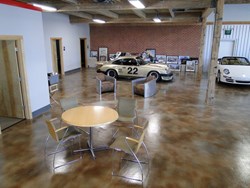 With a "can do" attitude and a value system that comes from running a family based business, they are ready to exceed their client's expectations.
Portland, OR (PRWEB) September 25, 2013
The brothers, Mark and Jeff Bach, are entering into their eighth year at Bach Custom Coatings and things have never been busier. This is largely due to their commitment of excellence in the field of decorative concrete coatings and a company philosophy that says, "Good enough is never truly good enough." Combine this with the ongoing relationships with high end builders and general contractors such as Howard S. Wright Constructors, Dreambuilder Custom Homes, Sean Gores Construction and JDL Development just to name a few, and you begin to see why the two brothers Bach are becoming one of the most sought after coatings companies in the Portland, OR area.
Chances are you may have just walked on, or more likely, driven on one of their coatings projects in the last year. As co-owner and founder Jeff Bach cites, "it's funny how projects seem to come in waves or cycles and this past year was no exception." It seems to be the automotive industry that's been lining up to have their floors updated lately. Speed Sports of Portland, OR, a high end auto sales dealership, moved into a new location and asked Bach Custom Coatings to apply an overlay and stain system to their 4,500 square foot showroom. Other recent projects include a new floor for the remodeled Hazel Dell location of Oil Can Henry's in Vancouver, WA, and shop floors for MBI Motors and another for Top Performance.
Don't think auto shops are the only thing these two coatings experts work on though. From numerous residential garage floors to restaurants, and from airplane hangars to medical facilities, they are always finding creative solutions to the needs of their clients. With a "can do" attitude and a value system that comes from running a family based business, they are ready to exceed their client's expectations.
When asked what one of the best newer products to come along lately was, they were quick to talk about water based stains and sealers. Water based products for custom garage floor coatings used to be considered a lesser quality material than the more widely used solvent based substitutes; however, advancements in the molecular chemistry of these water based powerhouses are winning over many applicators throughout the country and the supplier Bach partners with, Westcoat Specialty Coatings Solutions, is one of the leaders in this technology.
One of the greatest benefits to water based stain, unlike their acid based counterpart, is that the colors are now controllable. This leaves applicators in the driver's seat when trying to meet a client's expectations when it comes to color selection. There is no more reliance on the amount of free lime in the concrete surface to create a chemical reaction with the stain solution. There is also no residue left behind that needs to be neutralized and rinsed after application. This saves both time and money for everyone. Possibly one of the greatest benefits though, is that water based stains are also friendlier to the environment. No caustic compounds are used and when combined with a water based sealer, which is often the case, you truly have a "green" solution to a beautiful stained concrete floor. From LEED points for builders to the environmentally conscious homeowner, everybody wins with the use of water based products
Owning and operating top notch surface preparation equipment is something else Bach Custom Coatings is proud to provide on all their jobs. With a recently purchased PDG 8000 planetary diamond grinder from SASE Company along with its monstrous vacuum to control grinding dust, Bach has added another valuable tool to their arsenal. With their assortment of tooling including a tow behind generator for power supply, they can tackle any job, anywhere.