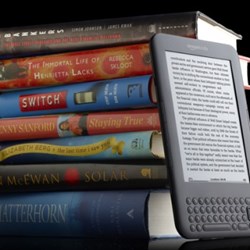 There were still more than one hundred million more hardbacks than eBooks sold last year.
(PRWEB) September 25, 2013
Although Strategic Book Group author Mary Page now lives in Baytown, Texas, her roots are in the Midwest. With a little help from her family back home, her new book The Grand New Delhi Escapade, about terrorism in India, is selling well as a soft cover in the heartland of America.
Physical books rather than ebooks are still a dominant force in America, as well as in small town America, judging by the sales of Page's book. The author's mother has been selling the novel for months to locals in her home state of Missouri.
According to a recent article in USA Today , the number of e-books sold only grew by the double-digit rate of 43 percent in 2012. This has spurred talk in the publishing industry of a digital book slowdown, even though e-books now make up 20 percent of book sales.
Meanwhile, according to Mary Page, "My mom says housewives, hairdressers, mechanics, and secretaries have been buying my book. Since most do not have a computer at home, my mom has been selling them the old-fashioned way. I send her a box of books at her request, and as she goes about her week, she shows people my book and talks to them and sells them. She made posters and put them in the grocery stores, and donated them to the library." She added, "I think it is awesome small town Midwest America is buying my book."
Aided by coverage in local Missouri newspapers, her novel has been receiving plenty of attention and free publicity by the media, spurred by the public relations efforts put forth by her publisher Strategic Book Group, which reaches 10,000 media outlets throughout the world. For more information about the book, visit http://sbpra.com/MaryPage.
The so-called "slowdown" in e-book sales has been attributed to readers still wanting to read the old-fashioned way, or preferring handheld devices for playing games and watching videos over reading books. According to SBPRA Robert Fletcher, "We have to remember that there were one million more hardcovers than ebooks sold last year; there is a reason many people still prefer print books and as long as that market exists, we will keep producing hard and soft cover editions."
Strategic Book Publishing and Rights Co, LLC
http://www.AuthorMarketingIdeas.com
http://www.PublishOnDemandGlobal.com
http://www.StrategicBookClub.com
ABOUT: Strategic Book Publishing and Rights Co, LLC provides book publishing, book marketing, and e-Book services to over 10,000 writers around the world, employing 150 people who live throughout the US and work virtually through telecommunication. Strategic Book Publishing and Rights Co, LLC is experiencing over 30% growth per year, having published approximately 3000 authors with almost 100 new releases per month. Our books are available through Ingram, the largest book distributor in the world, as well as in bookstores, through Amazon, Barnes & Noble and all online channels. Strategic Book Publishing and Rights Co, LLC attends and exhibits at the major book expositions in London, New York, China, and Germany each year.