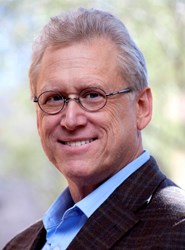 Tucson, AZ (PRWEB) September 24, 2013
Sierra Tucson, an international leader in the treatment of addictions, eating disorders, mood disorders, complex pain management, and trauma/PTSD, has announced the appointment of Jerome "Jerry" Lerner, M.D., as Medical Director. Dr. Lerner has served as interim Medical Director since last December.
"We are delighted that Dr. Lerner has accepted the position of Medical Director for Sierra Tucson, and confident in his ability to lead our outstanding team of clinical professionals," said Stephen Fahey, MSW, MBA, Executive Director of Sierra Tucson.
Dr. Lerner joined Sierra Tucson's medical team in December 2010 as Chief of Pain Medicine. He brings a quarter century of clinical and leadership experience to this position. He previously served as medical director for several major healthcare facilities and hospitals, and owned and operated a private practice for 15 years. He also developed and operated a wellness spa, has been a clinical instructor at the Medical College of Wisconsin for over 20 years, and has frequently served as a medical-legal expert in the media and on cases involving injuries, pain, and disability.
"As a leading industry expert, Dr. Lerner's contributions to our CRC Care Model– those clinical principles that drive continued excellence – have been hugely beneficial," said Dr. Phil Herschman, Chief Medical Officer for CRC Health Group, parent company of Sierra Tucson. "He is a talented professional and a fantastic asset to Sierra Tucson."
Wisconsin-born and raised, Dr. Lerner received his medical education and specialty training at the Medical College of Wisconsin. He is Board-certified in Physical Medicine and Rehabilitation and a Diplomate of the American Academy of Pain Management. Dr. Lerner is in the process of writing his much anticipated book, The End of Chronic Pain.
"Dr. Lerner is highly respected not only by the Sierra Tucson medical staff but by the wider medical/pain community as well. He is often consulted by physicians and other medical professionals for issues related to effective treatment," said Fahey.
In addition to his medical and rehabilitation training and experience, Dr. Lerner has dedicated his career to exploring the science and application of integrative principles to the treatment of medical, mental health and pain disorders.
About Sierra Tucson
Since its inception in 1983, Sierra Tucson has become an international leader in the treatment of addictions, eating disorders, mood disorders, pain management, and trauma/PTSD. A fully licensed Level 1 Special Hospital and Level 2 Behavioral Health Residential Treatment Center, Sierra Tucson is known for its holistic, bio-psycho-social-spiritual treatment approach and expertise in treating co-occurring disorders. Individualized treatment plans incorporate 12-Step philosophy, a wide variety of innovative and integrative therapies, a Family Program, and a combination of Western and Eastern Medicine practices. Dually accredited by The Joint Commission, Sierra Tucson employs seven full-time physicians as a key part of its multidisciplinary treatment team. Located on 160 acres at the foot of the Santa Catalina Mountains near Tucson, Arizona, this exceptional facility offers a beautiful, natural healing environment and the highest level of confidentiality. For more information about Sierra Tucson and its programs, call 800-842-4487.
Sierra Tucson is a program of CRC Health Group, the nation's largest and most comprehensive network of specialized behavioral health and addiction services. CRC offers the largest array of personalized treatment options, allowing individuals, families, and professionals to choose the most appropriate treatment setting for their behavioral, addiction, weight management and therapeutic education needs. CRC is committed to making its services widely and easily available, while maintaining a passion for delivering advanced treatment. Since 1995, CRC programs have helped individuals and families reclaim and enrich their lives.