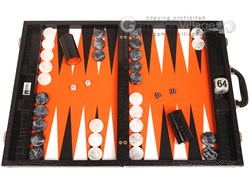 GammonVillage Releases its Newest Line of Wycliffe Brother's Tournament Backgammon Sets, the much anticipated Generation II
Cheektowaga, N.Y. (PRWEB) September 24, 2013
The largest online supplier of Backgammon sets, GammonVillage, has just received the new Generation II series of Wycliffe Brother's tournament Backgammon sets and boards. GammonVillage is the exclusive distributor for these Generation II sets.
As a special promotion, for a limited time GammonVillage is offering these sets at an exceptional introductory price to celebrate their arrival. Additionally, they offer free shipping on all their backgammon sets. Special promotion is valid until October 14, 2013.
Following in the footsteps of the highly successful Generation I series, these new Wycliffe Brother's Generation II backgammon sets similarly offer all the features found in high-end professional models at an affordable price. Use this code for an extra 10% discount "WycliffeG2".
These full-size backgammon sets are built around an ultra smooth playing surface, known as V-Fiber™. Similar in texture to felt or microfiber, this proprietary material was developed exclusively by The Wycliffe Brothers, satisfying the two most important criteria for a backgammon playing surface: 1) the checkers glide effortlessly on a luxurious and perfectly smooth field, and 2) the playing surface offers the perfect amount of friction to ensure your checkers remain in place if the board is bumped or moved.
New to the Generation II series are the phenomenal highly polished, marbleized checkers. Just shy of 1/2" thickness (11mm), these oversized checkers significantly reduce the instances of cocked dice, so more time is spent on game play rather than re-rolling the dice. Heavy checkers are part of this new Generation II set. Weighing in at a whopping 20 grams each, it's official - these are the new King of backgammon checkers!
Each new backgammon set comes equipped with professional dice cups, ergonomically designed to fit the hand perfectly, and lined with the same V-Fiber™ to keep the noise of shaking to an absolute minimum. Equipped with tournament grade trip-lip, just to make sure the dice fall randomly and cannot be manipulated.
Also new to Generation II is the absolutely decadent oversized doubling cube, measuring 1-3/4" (42mm). When it's time to double, it can be done with authority! Each case also features reinforced luggage-style handle and nickel plated locks, as well as matching corner protectors that are both functional and attractive.
"As a long-time Backgammon player, I want to deliver the world's finest Backgammon sets and boards, and make them available at an affordable price," says Mel Dragicevic, GammonVillage's founder and chief designer. "With the Wycliffe Brother's Tournament Backgammon Sets Generation II series, we certainly satisfy that goal in a convincing fashion. These are phenomenal backgammon sets that you won't find anywhere else."
"I highly recommend the Wycliffe Brothers® Tournament backgammon sets. There are so many things to love about these boards: incredibly smooth playing surface, enormous checkers, professional grade cups, cube, and dice...not to mention the unbelievable price! Dollar for dollar, these are the best backgammon sets in the world," Chiva Tafazzoli, President, World Backgammon Association
Features of Wycliffe Brothers® Tournament backgammon sets:

Corner protectors
Affordable Sale price - $240.00
Full size 20 1/2" sets
Colors: orange, brown, green ,black
Ultra smooth playing surface, known as V-Fiber™
Perfectly smooth field
High polish marbleized checkers - 20 grams each
Professional dice cups with trip lips
Over-sized doubling cube, measuring 1-3/4" (42mm)
Reinforced luggage-style handle
Nickel plated locks
and last but not the least, Free Shipping on all backgammon sets!
Visit http://www.gammonvillage.com or call (866) 260-2058 for more info.
About GammonVillage.com
Established in 1999, GammonVillage is one of the most popular and widely respected classic board games sites in the world with over 85,000 registered members. Dedicated to providing the ultimate online experience, GammonVillage offers top quality backgammon, chess, mah jongg, dominoes and other classic game products. For more information about the Wycliffe Brothers Generation II Backgammon Sets or to purchase a gift certificate, visit GammonVillage.com or call (866) 260-2058.