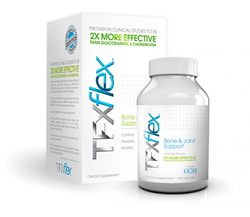 This product has been shown in clinical studies to be 2X more effective than glucosamine & chondroitin.
Salt Lake City, UT (PRWEB) September 30, 2013
InterHealth Nutraceutical announced last week that one of the company's nutritional ingredients received top honors at the 2013 Natural Supplement Research Competition hosted by the Scripps Center for Integrative Medicine. The competition-winning research presented by Medicus Research on UC-II® Undenatured Type II Collagen is considered to be groundbreaking new information in the battle against Osteoarthritis and joint pain relief.
The annual research competition brings together medical professionals from around the world to discuss breakthroughs and trends within the dietary supplement industry. Participants in the research competition presented a mixture of original clinical research and basic science and review entries. Awards were presented in both faculty and student categories, with entries judged in areas such as originality, design, and interpretation.
This year's winning entry submitted by Medicus Research concluded that, "Supplementation with UC-II® for seventeen weeks was well-tolerated and more effective than placebo in supporting joint comfort, flexibility, and mobility." The research further noted that, "UC-II® Undenatured Type II Collagen appears to be effective in alleviating joint discomfort." [JACM, 2013; 19:A4]
UC-II® was developed by a team of scientists at InterHealth Nutraceutical with more than 25 years of experience in the development of patented, clinically proven dietary ingredients. It holds 7 international and U.S. patents and is supported by 9 human clinical studies, including research at Harvard Medical School.
UC-II® is the active ingredient found in TFX Flex™ and other popular joint health supplements that offer clinically proven joint pain relief.
A company spokesman from TFX Health, makers of the popular TFX Flex™ joint health supplement explained, "The science behind joint health is rapidly changing. Glucosamine & chondroitin are no longer the only options for joint pain relief and certainly not the best option. TFX Flex™ with UC-II® has been proven in clinical studies to be 2X more effective than glucosamine and chondroitin and may offer joint pain relief in as little as 7 days." [Int J Med Sci. 2009; 6:312-321].
To learn more about UC-II® Undenatured Type II Collagen, please visit http://www.TFXflex.com/ or GNC.com.
About TFX Health, LLC
Based in Salt Lake City, TFX Health, LLC is an innovative pioneer in the development of advanced health and wellness products. All products are manufactured in the USA in FDA registered, GMP compliant facilities and sold worldwide through online and traditional retail channels.
UC-II® is a trademark of InterHealth N.I. Clinical data available upon request. U.S. Patents 5,645,851; 5,637,321; 5,529,786; 5,750,144; 7,083,820; 7,846,487, EPO Patent 1435906B1 and worldwide patents pending.