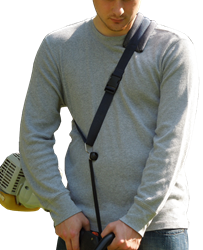 Lots of hard work, and developing products that tend to sell themselves.
Atlanta, Ga (PRWEB) September 25, 2013
NLKUS.LLC, an upstart inventing and manufacturing company, experiences huge growth in 2013. NLKUS.LLC, creator of two brands to date, the Trimmer Assist and Detector Assist began business in June of 2011. 2013 marked a turning point as the company has secured global distribution for each brand into 63 countries, also securing Big Box retail space with a Home Improvement Center retail chain.
The innovative company focuses on inventing and creating ergonomic solutions for everyday problems. The Trimmer Assist brand creates a specialized bungee suspension strap system for String Trimmers, while the Detector Assist brand creates a specialized bungee suspension for Metal Detectors.
In 2013, the Trimmer Assist was picked up, and distributed through the worlds largest outdoor power-tool distribution company Rotary Corp, and by "Southerlands Home Improvement Centers". The Detector Assist was picked up for distribution by one of the worlds oldest and most innovative Metal Detector manufacturers "Whites Electronics".
When asked, what do you attribute this rapid growth to, Tony Hanes owner of NLKUS.LLC stated "Lots of hard work, and developing products that tend to sell themselves. The feedback we get assures us we have accomplished that goal".
In reference to the Detector Assist, president Jimmy Sierra of Whites Electronics stated "This is the best system I have ever used for taking weight off the arm while detecting". As Rotary Corp. evaluated the Trimmer Assist, they simply stated "Why didn't we invent this"?
Hanes went on to say, "We attended the National Hardware show In Las Vegas early this year, followed by relentless submissions of our products to key people in the industry. Key buyers are just people like everyone else, and sometimes they may not recognize a brilliant product immediately. We were fortunate to have quickly met alert distributors, who could spot the advancements our products offer."
Another factor that contributed to the success of the product launch was the partnership program with Max Gresham, driver of the No. 8 Chevrolet in the NASCAR Camping World Truck Series (NCWTS) for Sharp Gallaher Racing (SGR), which included two events in May. The Trimmer Assist adorned the No. 8 Chevrolet as the primary sponsor with a full paint scheme at Dover International Speedway.
"The partnership with Max Gresham was a very successful marketing campaign for our brand," Hanes said. "It helped us tap into the NASCAR fan base to grow our social media footprint and develop brand recognition to the most brand-loyal fans in major U.S. sports."
Next year is set to continue this growth cycle, as in recent news, the Trimmer Assist will be featured on a major shopping network beginning in spring of 2014. NLKUS.LLC will also be unveiling a brand new product in 2014, providing a specialized ergonomic product for fishing enthusiasts.
About NLKUS.LLC
NLKUS.LLC develops and creates new innovative ergonomic products; founded in June of 2011 by CEO Tony Hanes. Current brands are Trimmer Assist and Detector Assist. NLKUS.LLC will continue to develop new innovative products, and seeks to expand into larger big box retail markets.