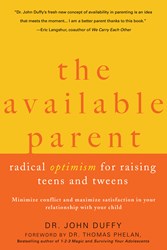 A healthy dose of optimism and lots of practical suggestions.—Publishers Weekly
(PRWEB) September 24, 2013
The Available Parent author Dr. John Duffy has teamed up with GreatSchools.org to create a series of informative videos on the most common parenting dilemmas, and how parents can painlessly get through them. As the new school year unfolds, parents may find that their children don't get along with their new teachers. Dr. Duffy give practical advice on defusing the tense and emotional situation in a way that's beneficial to the child, parent, and teacher.
Dr. Duffy also speaks to the all-too-common occurrence of a child saying "I hate you" to his or her parent. What exactly do kids mean when they say this? Dr. Duffy reveals how to read between the lines and figure out what they're really trying to say.
Disorganization starts from an early age, and Dr. Duffy's third GreatSchools video gives parents hands-on advice to teach organizational skills to children.
What people are saying about The Available Parent (also available as an audio book):
"A healthy dose of optimism and lots of practical suggestions."
—Publishers Weekly
"Dr. Duffy provides a clear, straightforward, doable answer for parents: Stay in touch!"
—Dr. Thomas W. Phelan, author of 1-2-3 Magic and Surviving Your Adolescents
Ever been bewildered by the changes in your child and the sudden lack of effectiveness as a parent? When hugs and family fun have been replaced by silence, slamming doors and an ever-changing array of moods, parents need new tools. Top teen expert Dr. John Duffy has encountered all of this and more in his family counseling practice and offers excellent advice, clear strategies and teen-tested solutions in The Available Parent: Radical Optimism for Teens and Tweens.
Imagine what it would be like if healthy conversations replaced angry outbursts or petulant silence. Using the techniques in The Available Parent, parents can begin to enjoy a healthy, satisfying, new kind of relationship with their teenagers—one based on a foundation of radical optimism, rather than fear-based control. At a time when many "helicopter parents" micromanage and under-appreciate their children, Dr. Duffy's step-by-step guide is an innovative approach to taking care of teens and tweens. It's the available parent that fosters an extraordinary teenager.
The Available Parent covers:
♦ How to understand the adolescent mind
♦ What teen rebellion is really about
♦ How to build your child's self-esteem and confidence
♦ How to create a successful behavioral contract
Dr. John Duffy is a clinical psychologist and certified life coach with a thriving private practice in the Chicago area. Dr. Duffy works with both teens and adults and specializes in helping parents maximize satisfaction and minimize conflict in their relationships with their teenagers. In addition to clinical work, Duffy also consults with individuals, groups and corporations in a number of areas, including Emotional Intelligence, stress management, balancing work and family, conflict resolution, goal-setting and the power of thoughts in bringing about change. Dr. Duffy's highly satisfied clients include Sears, Allstate, General Electric, Household Financial, Exxon Mobil, Accenture, Bank of America and Hewitt Associates. The Duffy family lives in Chicago, Illinois.