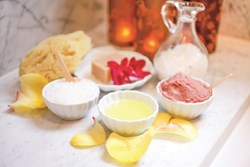 Half Moon Bay, California (PRWEB) September 24, 2013
Guests of The Ritz-Carlton, Half Moon Bay can enjoy luxury like no other with one of the resort's tranquil butler-drawn baths in the privacy of their guest room. Each bath is designed to stimulate a harmonious balance of mind and body. Bath Butler services are available daily from 8 a.m. to 10 p.m.
Coastal Lavender Bath
The Coastal Lavender Bath is crafted to calm and soothe. Soak away layers of tension with lavender essential oil and bubbles. The aromatic bath is topped off with hand-made lavender soap and Shea butter moisturizer and is $65.
Muscle Soothing Arnica Bath
After a hard work out or a marathon day of meetings, the quickest road to recovery is slipping into the Muscle Soothing Arnica Bath. Designed to relieve aches and pains, this aromatic soak of regenerating bath salts and Arnica essential oil recharges the body. The bath is $65.
Romance Bath
Glowing candlelight and soft music set the stage for romance. Immerse into a luxurious bath filled with bubbles, infused with alluring essential oils, and topped with fresh rose petals. Luscious Shea butter moisturizer and hand-made soap complete the experience. The Romance Bath is $75 and can be enhanced with a glass or bottle of chilled Champagne.
Fire and Wine Bathing Ritual
With or without sipping the nectar of the gods, the ultimate bathing experience can be had with this vino therapy bubble bath. This antioxidant rich bath includes a Chianti and grape seed scrub to prepare the skin before immersing into vitamin-intense Tuscan oil and grape seed soak. The Fire and Wine Bathing Ritual includes a Shea butter moisturizer and a travel size candle. The bathing ritual is $75 and can be enhanced with a glass or bottle of fine wine.
The Bubbly Bath
Perfect for the young and the young at heart, this fun bath features mounds of bubbles in a milk and honey bath salt soak. Children of all ages will enjoy delicious homemade cookies and their choice of hot chocolate or chocolate milk to accompany the bath. A rubber ducky bath toy and gentle handmade soap are included in the $55 price.
About The Ritz-Carlton, Half Moon Bay
Situated 23 miles southwest of the San Francisco International Airport, The Ritz-Carlton, Half Moon Bay is a 261-room destination spa and golf coastal hotel and the San Francisco Bay Area's only oceanfront resort. Set atop a rugged bluff overlooking 50 miles of pristine California coastline, the timeless oceanfront estate provides guests with a relaxed yet refined experience, whether for a romantic getaway, meeting or special event.
About The Ritz-Carlton Hotel Company, L.L.C.
The Ritz-Carlton Hotel Company, L.L.C. of Chevy Chase, MD., currently operates 80 hotels in the Americas, Europe, Asia, the Middle East, Africa, and the Caribbean. More than 30 hotel and residential projects are under development around the globe. The Ritz-Carlton is the only service company to have twice earned the prestigious Malcolm Baldrige National Quality Award which recognizes outstanding customer service. For more information, or reservations, contact a travel professional, call toll free in the U.S. 1-800-241-3333, or visit the company website at http://www.ritzcarlton.com. The Ritz-Carlton Hotel Company, L.L.C. is a wholly owned subsidiary of Marriott International, Inc.