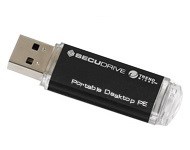 San Jose, CA (PRWEB) September 23, 2013
Brainzsquare announces the release of Portable Desktop Personal, a USB drive containing a customizable virtual desktop for users to personalize with their own portable applications. Users can now take their workspace with them on the go to use on any public computer, improving work efficiency while keeping their data safe.
Current technology is all about having access to data anywhere and everywhere. Users can find themselves accessing data from different places, whether it is a coworker's or a public computer. By having to switch computers to work however brings up a data security issue such as unauthorized copying and data leakage. Traces of data that you handle can be left behind on the host computer, compromising the security of the data. There is also an issue with the decline of work efficiency due to having to work on multiple computers with different settings.
SECUDRIVE Portable Desktop Personal takes care of both of these issues by providing a virtual desktop for users to work on. Just plug in the USB drive and enter in your login information and the virtual desktop will boot from the flash drive. Because it takes a lot of time to install and set up apps on public computers, users can also install portable applications and customize their virtual desktop to improve their work efficiency wherever they are.
This solution is also compatible with the Dropbox storage client. Just by authenticating a Dropbox account, users can sync files stored in their Dropbox folder to the virtual desktop. By doing so, users can take their cloud storage with them on the go, having access to it wherever they are.
Other features of SECUDRIVE Portable Desktop Personal include encryption. All data handled and worked on within the virtual drive remains inside the flash drive, leaving no trace on the host computer. This keeps the user's data safe from unauthorized view or leakage. All the data stored on the virtual desktop is also encrypted by the AES 256-bit hardware encryption chip, keeping the data safe from malware or infections.
"SECUDRIVE Portable Personal allows users to carry their workspace along with their important data safely with them on the go. With encryption and a virtual drive where all the data on the virtual desktop is saved into, this solution provides a safe workplace for users wherever they are," said Simon Kang, CEO of Brainzsquare.
About Brainzsquare:
Founded in 2000, Brainzsquare has been serving specialized and innovative data security solutions in the market. Since 2006, with the launch of the SECUDRIVE product line, Brainzsquare has provided products ranging from secure USB flash drives and data erasure products to copy protection software, device control, and file server security solutions for corporate customers and content publishers.
SECUDRIVE is the registered trademark of Brainzsquare.
If you have any questions or inquiries about this article or its contents, please contact us.
Judy Yun
Brainzsquare
3003 N. 1st Street
San Jose, CA 95134
Tel: 1(800)464-9803
PR(at)secudrives(dot)com
http://www.secudrives.com
Follow SECUDRIVE:
Facebook: http://www.facebook.com/secudrive
LinkedIn: http://www.linkedin.com/company/brainzsquare-Inc-
Youtube: http://www.youtube.com/secudriveUSA
Twitter: http://www.twitter.com/secudrive