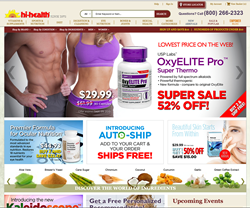 Our team, as well as our customers since 1972, have built our brand based on community involvement, education and on digital.
Scottsdale, AZ (PRWEB) September 25, 2013
Hi-Health Corporation has re-launched its flagship brand http://www.hihealth.com online store and information hub for its growing customer base beyond the greater Phoenix region. http://www.hihealth.com will be a one-stop destination where fitness experts, health aficionados, young and young at heart (delete and) customers alike can access, engage and shop for the best health supplements to reinvigorate their healthy lifestyle.
"Our team is committed to offering a flexible and interactive site that will make it easy for patrons to purchase what Hi-Health brick and mortar stores offer beyond the barriers of geography and time" said Sunil Vulli, who heads the digital and direct marketing divisions at Hi-Health. "Our customers will not only have a wide selection of products to choose from, but also they will be empowered with features such as shop by ingredients, auto-shipping, social login, social sharing and content from expert team of authors that include medical practitioners, fitness trainers, athletes and nutritionists through our blog (http://www.hihealth.com/blog). Our primary objective is to build the same rich customer experience and educational expertise on healthy lifestyle over the Internet, as it is presented in our brick and mortar stores".
Additionally, web users can access and engage with peers and experts on a variety of topics in healthy lifestyle through social media integration built into the site and its blog. "Such rich user generated content through reviews, comments and multimedia will develop a strong brand experience for all demographics alike," added Jay Copra, COO of Hi-Health. "Our team, as well as our customers since 1972, have built our brand based on community involvement, and we would like to extend and expand through this integration of channels".
"More of our customers are on the Internet and they have been asking for this for awhile. We listened and are excited to see hihealth.com go live as the key part of our overall growth strategy," said Mitch Chalpin, President and CEO of Hi-Health. "Internet is where the focus of the market is today and we would like to build our brand presence across all digital channels and devices."
About Hi-Health Corporation.
Headquartered in Scottsdale AZ, Hi-Health Corporation has been providing its customers and patrons with paths to better health, nutrition and well-being since 1972 through an exceptional product mix of health and nutritional supplements and an experienced staff at its 45 stores in the greater Phoenix region and online. Hi-Health markets top brands as well a list of its private label products under the brands UltraPlan, Optim-3, XRated, Optimetabolic, Tibet Mountain and Nutrition Science. Online shopping is available through its websites http://www.hihealth.com and http://www.ocucel.com. Follow Hi-Health on twitter at twitter.com/hihealth and "like" Hi-Health on Facebook at facebook.com/hihealthsupermart