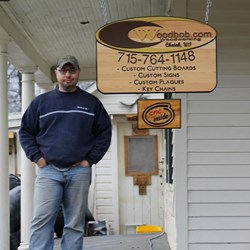 Chetek, WI (PRWEB) September 25, 2013
Keeping abreast of trends in the epicurean cutting board venue a company out of Chetek, Wisconsin is all too happy to personalize their take on the matter. Offering personalized engravings such as an engraved heart, star, cabin, or home right onto their wood cutting boards the company run by two brothers take chopping blocks to a whole new level. "Cutting boards really are a thing of beauty that can be displayed well in a home. Knowing that we do what we can with the customer's direction to make our cheese boards and maple and bamboo cutting boards as special as we can. And a heart/star/cabin/home personalization is free of charge." said Robert Wendt, Owner of Woodbob.com Woodworking.
Making their website all the more attractive with branding specific to their market the Woodbob.com proprietors have also launched a new image with the re-design of their website that incorporates a new logo, as well as, ample photos of the products. To celebrate the launch, the company has reduced their product shipping prices and increased convenience with USPS Priority 2-Day Shipping on their 9 to 14 inch cutting boards.
For more information visit http://www.woodbob.com. To connect on Facebook and Twitter visit http://www.facebook.com/woodbobshop and https://twitter.com/woodbob respectively.