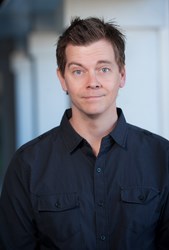 Farts are funny to 99% of the population.
Huntington Beach (PRWEB) September 25, 2013
Jack Vale is living his dream. He invented a fart noise maker 6 years ago called The Pooter and has since become a worldwide phenomenon on the web. He uploads videos on YouTube of him using the device. Here's his latest Pooter video "Fart Wars" featuring his good friend (another YouTube sensation) Ed Bassmaster.
Vale, a devoted husband and father of 5, says, "Farts are funny to 99% of the population". And as for the other 1%, well, who cares what they think. Jack Vale has racked up over 150 million views and nearly 1 million subscribers on YouTube pulling his shenanigans on the unsuspecting public. His YouTube channel is also what paved the way for him to star on the syndicated TV show "Bloopers" with Dick Clark Productions which airs every weekend. He sells his "Pooters" directly through his website at thepooter.com and they are just under 10 bucks. Jack says he wanted to create a device that sounded like he was authentically passing gas. "Battery-operated fart machines sound electronic and everyone knows they are fake because they have heard the same sound again and again. With The Pooter, you control the sound and no batteries are required. It's basically a piece of rubber that blows air out of a small hole, thus producing the most authentic fart sound in the world." You can buy one of these Pooters at thepooter.com.
However, if farting in public isn't your cup of tea, you will probably enjoy the rest of his hilarious, family-friendly pranks. When asked what his favorite pranks are, he says it's impossible to answer that question but loves making people feel uncomfortable and awkward and there's a little of that in every video.
You can watch hundreds of prank videos on Jack Vale's YouTube channel here.