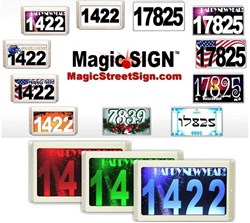 It is about helping the community, improving safety, assisting First Responders in their line of duty, and of course celebrating your favorite holidays, sporting events, special occasions.."
San Diego, CA (PRWEB) September 25, 2013
An Indiegogo campaign launched by ADVS-technologies on September 22 aims to raise funds to send their new Intelligent LED street sign called MagicSign™ into production. The light up street sign has been patented with the United States Patent Office under patent number US 8,099,261, with several additional patent pending applications filed recently. MagicSign™ and the upcoming MagicSignNet™ is the solution to shaving lifesaving seconds and possibly even minutes off the response time for First Responders trying to identify the location of a crisis.
ADVS-technologies designed several models of the MagicSign™ for illuminating street addresses of apartment units, condominiums, and residential housings.
The model MagicSign™-1000 for condominiums and residential housings is released for production. Through the campaign at Indiegogo, a limited edition of the MagicSign™-1000 with custom SignSheet™ celebrating upcoming "New Year" is available for purchase. If ordered before November 1, 2013, the "Happy New Year" MagicSigns™ kits with your street address number stylishly embedded into the SignSheet™ artwork, will be delivered ready to install prior to December 29, 2013.
In addition, the owners of the "Happy New Year" MagicSigns™, will be entitled to receive the MagicBackupPower™ kit, scheduled for release February 2014, 30% discounted from the regular price. The MagicBackupPower™ with customer provided eight AA batteries, will keep the MagicSign™ fully operational for at least forty hours of continuous use during a power outage.
"You can install it where you see fit," says inventor Zack Braunstein. "And with optional MagicBackupPower™ kit you'll always have the peace of mind that MagicSign™ will be there and operational when you need it most. The MagicSign™ will illuminate your street address even if there is no electricity."
By utilizing funds from the Indiegogo campaign, which runs until November 6, the MagicSign™ team will finalize the designs and start production with a goal to begin initial product deliveries in February 2014.
"It is time for all of us to make a small investment into our own residences, by making street address signs visible and useful at all times, day and night," Braunstein says. "It is about helping the community, improving safety, assisting First Responders in their line of duty, and of course celebrating your favorite holidays, sporting events, special occasions and so forth!"
For any feedback, or to join up as a volunteer of ADVS-technologies mission to promote the need for illuminated street address signs, please visit http://www.magicstreetsign.com.
About ADVS-technologies
ADVS-technologies is a young and ambitious company specializing in the development of innovative proprietary technologies with an extensive portfolio of patented technology in the areas of illumination systems, power distribution systems, pharmacy, store automation, and transport systems. The objective of ADVS-technologies is to provide effective and efficient environmentally friendly solutions with the intent of improving quality of services.
For more information, please visit http://www.advs-technologies.com.
MagicSign is a trademarked product of ADVS-technologies. It is United States patent number US 8,099,261. For more information, please visit http://www.magicstreetsign.com.