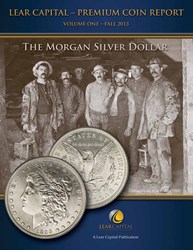 Lear's Premium Coin Reports explore a variety of rare gold and silver coins like the Morgan.
Santa Monica, CA (PRWEB) September 25, 2013
Lear Capital (http://www.learcapital.com), America's Precious Metals Leader, has just released the first issue of their Premium Coin Report Booklets. Volume One is dedicated to the Morgan Silver Dollar. The "Morgan" is a large coin that was minted for large times when the American Plains were vast and expanding.
Lear's Premium Coin Reports explore a variety of rare gold and silver coins like the Morgan; all with a solid record of capital appreciation and that represent an extraordinary investment opportunity with a relatively low cost of entry. With the current precious metals mining crisis, rampant currency devaluation, and exploding demand for physical metals, premium coin investing has evolved into a more serious portfolio strategy and one that has outpaced many traditional investment channels. Some rare coins can appreciate by as much as 15% to 25% per year with a few, select coins recording record-setting returns.
Rare or Premium coins are a highly subjective investment since their market price is dictated by more than just the coin's metal content. Investors consider a coin's physical attributes, its distinguishing characteristics, its role of history, its condition, it scarcity, and its unique story. The Morgan Silver Dollar, for instance, was the product of the Nevada Comstock Lode, America's largest silver strike and our first major metals discovery. From 1878 to 1904 an astonishing half a billion Morgan dollars were struck in Philadelphia, New Orleans, Carson City and San Francisco. The Morgan Dollar is 90% silver and its generous size, classic design, and high silver content makes it extremely popular with investors.
Currently priced below its historical average, Lear's Premium Coin Report offers insights into the Morgan's historical performance including its 10-year average premium, its 10-year high premium and its potential return if it moves back to its historic averages. The analysis of the Morgan presents a very clear profit forecast based upon past performance and today's low prices
The Premium Coin Reports feature forecasts provided by Lear Capital's custom, interactive Coin Analyzer (http://www.learcapital.com/aboutcoinanalyzer.html). The Coin Analyzer studies the bottom-line investment potential of premium coins and provides an interactive model where historical averages and historical high prices can be used to gauge potential future value. The Coin Analyzer's pricing slide allows the user to view a coin at its current price, its potential future price, or at any price one chooses. It also provides a Premium Calculation snapshot which shows how many times a given coin has traded over its actual precious metals content value.
Using basic predictive modeling methods, Lear's Coin Analyzer consider the coins historical performance and its notable benchmarks to provide the clearest outline possible of the upside and downside of every selected coin. The Premium Coin Report Volume One on the Morgan Silver Dollar is currently available for free download at Lear's website at http://www.learcapital.com.
Lear Capital has been America's precious metals leader since 1997 helping customers diversify their portfolios with bullion, premium rare coins, and by adding physical gold and silver to an existing IRA account. For investors looking to realign their asset allocation, maintain an aggressive hedge against global volatility, or secure tangible retirement protection, Lear Capital has a plan.