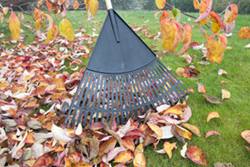 "Aeration also allows water and nutrients deep into the soil. That's why I believe that aeration is one for the most beneficial services you can do for your lawn right now," says Keegan Ballard, Inside Sales Manager for Senske Services.
Kennewick, WA (PRWEB) September 24, 2013
Senske Services is warning homeowners that the end of summer does not mean an end to lawn care. In fact, early fall is one of the best times of the year to make lasting changes in the care of lawns and shrubs.
Fall is a great time of year to take care of the yard work that may have been neglected during the hot summer. This is especially true when it comes to tree pruning. Trimming trees and shrubs now can reduce the risk of winter damage later.
Grass can also use a pre-winter boost to get a head start on healthy spring growth. Many lawns have been walked on, played on and watered through the summer. Fall aeration will help loosen compacted soil and reduce unwanted thatch.
Like unwanted thatch, pests don't go away with the hot weather. In fact, it's just the opposite. Many pests are trying to come indoors. Spiders, insects and rodents are already looking for refuge from the cold weather ahead. Now is the time for homeowners to be vigilant in preventing pests from coming inside your home.
Senske Services is currently offering their fall promotions on lawn care, tree pruning, and spider control. Visit http://www.senske.com to request a free customized estimate.
About Senske Services
Senske Services, Inc. is a leading lawn, tree and pest control service provider that is locally owned and operated, with its corporate office based in Kennewick, Washington. They have been a trusted source of lawn, tree and pest control services since 1947, with branch offices located in Eastern Washington, Idaho, and Utah, as well as pest control in Las Vegas, Nevada. To see what Senske Services can do for you, visit http://www.senske.com.