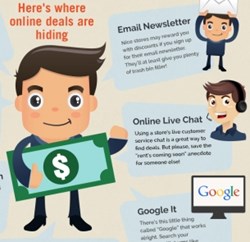 Los Angeles, CA (PRWEB) September 24, 2013
BluePromoCode.com, a leading marketplace for coupons and deals, today published a new infographic to show consumers where the best online deals are located.
The infographic features 7 key areas where consumers don't typically look for coupons. These places can provide consumers with discounts often reserved for a retailer's most loyal or highest-spending consumers. It also features some industry trends such as the high growth of couponing and mobile coupons.
These tips and trends are highlighted in the free infographic now viewable on the BluePromoCode Blog.
About BluePromoCode.com
BluePromoCode, based in Los Angeles, is a leading coupon search engine used by millions of consumers to help them save the most money on their purchases. The website partners with 12,000 retailers to bring over 100,000 coupons to its users with its editors hand-checking coupon codes to ensure the highest quality ones rise to the top. BluePromoCode also offers personalized emails so members can receive the best deals for the brands they love directly in their inbox. Learn more at bluepromocode.com.