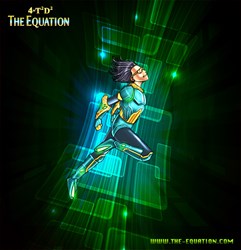 We don' t fit our vision to our budget, but our budget to our vision and therefore our team believes that The Equation Mobile Game is an authentic innovation.
Los Angeles, CA (PRWEB) September 24, 2013
Acclaimed philosopher and author of The Equation, James Tarantin, announced today the release of his highly anticipated game, The Equation Game, a mobile gaming app available through the Apple Store. This will be the first game ever released that works in tandem with a novel.
"Gamers are People who want not only an adrenalin rush ride, but also something they can relate too on a Personal Level; a game will inspire them to accomplish great fortune in life. We don't fit our vision to a budget, but the budget to our vision, and therefore our team believes that The Equation Mobile Game is an authentic innovation."
Much like the book, the game will highlight the aspect of the individual shaping his or her unique path through the game as players are given the freedom to construct their own reality on the screen. The Equation Game gives players the desire to break through conventional modes of gameplay and allows users to design situations which will benefit them in the end. Similar to the book, the game will explore magical worlds detailed within the novel, offering the five rings that represent the fundamental lessons of the story and a way for users to connect to them directly.
Tarantin's new move into the gaming world stands as a staple of his innovation and growth of his company. As one of the youngest philosophical thinkers of today, Tarantin now aspires to further enrich and inspire individuals through his revolutionary game. The Equation Game and novel represent the culminating vigor that lies at the foundation of James' prolific vision, which concedes that all have the power to affect his or her own outcome. With an eye on the future, James looks to increase the reach of his expanding enterprise by using his mobile game as a way to transport game-enthusiasts to a new level of gaming.
ABOUT JAMES TARANTIN
Discovered at age 16, Tarantin's transformative book, The Equation, recounts a cross-cultural saga that traces a true story line which spans over 58 years and streamlines across four continents. From youthful heroes standing up to people's thirst for exotic adventures, the book appeals to a large array of audience members around the world.
Tarantin immigrated to the United States alone with no family or financial means, leaving behind his beloved home in pursuit of the American Dream. He has since gained citizenship and has built a multi-faceted empire that converges his popular YouTube channel and TarantinDream, a company that he founded with the help of television and radio host, Larry King. The company took the initiative to further catapult Tarantin's tour-de-force style, implementing its strategy science of international business classes which include works of art, animation, networks, and games.