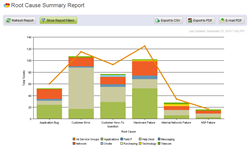 Santa Clara, California (PRWEB) September 24, 2013
Why should senior IT and customer service leaders use metrics/KPIs:
1. Increase Customer Satisfaction – Excellent help desk leaders understand root cause analysis so they can take systemic steps to reduce overall call volume and increase customer satisfaction. They carefully measure not only the call type, but also "why" calls actually occur. Leaders determine the underlying reasons behind customer inquiries. This has to be extremely well understood in order to decrease call volume and ultimately increase customer satisfaction.
2. Highlight Relative Performance - Excellent help desk leaders draw key distinctions between the performance of people and groups for objective incentive programs. Linking incentive programs to subjective criteria will destroy morale in any organization. Without objective measures, favoritism, personality and politics "rule" instead of performance.
3. Internal & External Benchmarking - Excellent help desk leaders benchmark their companies against the industry and direct competitors for continuous improvement and call reduction.
4. Financial - Excellent help desk leaders measure performance to generate resource allocation plans, balance workloads, balance headcount and make business cases for capital and operating expenses.
At this webinar, help desk and customer service leaders will learn to:

Use metrics/KPIs to identify the true root cause of call volume
Utilize metrics/KPIs to hold people more accountable; who to reward, who to coach and who to warn
Reduce the amount of time spent building and running reports
Build incentives into your organization to change behavior
Proactively identify trends and patterns to take corrective action when necessary
CIOs & IT Directors click to sign up for the webinar
Customer Service VPs & Directors click to sign up for the webinar
Attend this webinar and receive a complimentary series of White Papers on how to better utilize Reports, Metrics and KPIs to reduce IT service desk call volume and costs and increase customer satisfaction.
Founded in 1999, Giva was among the first to provide a suite of help desk and customer service/call center applications architected for the cloud. Now, with hundreds of customer driven releases, the Giva Service Management™ Suite delivers an intuitive, easy-to-use design that can be deployed in just days and requires only one hour of training. Giva's robust, fast and painless reporting/analytics/KPIs quickly measure team productivity, responsiveness and customer satisfaction resulting in faster and higher quality decision-making. Customization and configuration are all point and click with no programming or consultants required to deliver a substantially lower total cost of ownership. Giva is a private company headquartered in Santa Clara, California serving delighted customers worldwide.
Learn more by taking a tour of Giva's IT Help Desk Reports and Customer Service/Call Center Reports or sign up for a no obligation 30-day trial of Giva.
PR contact:
Email: pr(at)givainc(dot)com
Phone: 408.260.9000