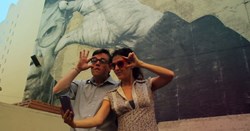 Los Angeles, CA (PRWEB) September 24, 2013
Now in its third year, the On Location: The Los Angeles Video Project Presented by NewFilmmakers LA Film Festival announces a star-studded, red carpet event featuring nineteen fresh short films highlighting the beauty of Los Angeles. From the ubiquitous NYC vs. LA battle, to 4th of July block parties, dog walking, midnight bike rides, local artists, tourists visiting the sights and emerging filmmakers achieving their dreams, this short film competition, with cash production prizes worth over sixty five thousand dollars, is not one to miss.
Taking place October 19th at the AT&T Center in Downtown Los Angeles, the selected finalists will compete for prizes in the film fest including a Grand Prize production/post package from Equilibrium Entertainment and Alternative Rentals, and a Sony "Genesis Award" winner of a production package from Sony Pictures Entertainment including professional level products such as a Full-Frame Interchangeable Lens Camcorder, an XLR Adapter and Microphone Kit, a 18-200 f/3.5-6.3 Telephoto Lens and more. Additional prizes include film permits from Film LA; six bundles from Entertainment Partners, including Movie Magic Budgeting 7 and Movie Magic Scheduling and cash prizes.
Hosting the evening is Steve Howey from the hit Showtime series "Shameless". A Texan native, Howey settled in Los Angeles during school before attending college in Denver on a basketball scholarship - though he turned to drama his sophomore year, joining his father's, acting coach Bill Howey, acting class. Over the years, Howey's starred in "Reba" as Van Montgomery, and guest-starred on "New Girl" and "Sons of Anarchy" as well as numerous independent films. Additional celebrity presenters to be announced.
Judges for On Location include producers Scott Budnick (The Hangover, Due Date), Marshall Persinger (ABC's Army Wives), Debra Martin Chase (The Princess Diaries, Sisterhood of the Traveling Pants), Steven J. Wolfe (500 Days of Summer, Baggage Claim), and film director Demian Lichtenstein (3000 Miles to Graceland), President of Film LA Paul Audley, Executive Director of SAG-AFTRA Ilyanne Morden Kichaven, and Marketing Director of LA Weekly, Shelley Leopold, along with Cliff Hsui, the Vice President of Marketing at Alternative Camera Rentals, and Kamilla Blanche, the Arts & Cultural Deputy for LA City Councilmember Tom LaBonge, District 4.
Selected finalists for the 2013 On Location: The Los Angeles Video Project include:
Grand Park July 4th Block Party (Dir. Darrell Lake) - A surprising turnout of Angelenos at LA's Grand Park first-ever 4th of July block party.
Film director Darrell Lake, a Sierra Leone native, was forced to flee his country in 1999 when war broke out. Just nine years old at the time, his family sought refuge in Guinea, The Gambia, Ghana, and Eritrea, before being able to return home. As an actor, Lake's credits include "Southland", "Touch", and "Switched at Birth".
Tribeca Urban (Dir. Jeremy Weiss) - A New Yorker teases his friend who has recently moved to Los Angeles.
USC School of Cinematic Arts Filmmaking graduate Jeremy Weiss has directed commercials, documentaries, music videos, and hit television shows including FOX's Hell's Kitchen and CBS's Big Brother. In 2009, he won a Webby Award for his work on the web series "Luke 11:17", for which he directed and edited. His upcoming feature film, Geraldine Page: Stages of a Dream, stars Clint Eastwood, Ellen Burstyn, Rebecca DeMornay, Hal Holbrook, and Martin Landau. Academy Award winner Al Pacino hired Weiss to edit his directorial debut, Salomé, starring Pacino, and Jessica Chastain as Salomé, out later this year.
323: Portraits of Los Angeles (Dir. Aaron Spoto) - An intimate exploration of Los Angeles's diverse communities and culture focusing on life in the 323 area code.
Bob & the Midnight Ridazz: Unmarked Guide LA (Dir. Yasmin Hed) - A kid leads the Midnight Ridazz through the streets of Los Angeles after midnight.
Dreams Come True in Los Angeles (Dir. Carlos de la Vega & Rudolpho Zalez) - The four-year journey of making, "Wassup en LA?", an independent TV sitcom pilot.
Fellow Rebel "Baby Please" (Dir. Eric McCoy) - Two aspiring artists part ways in order to follow their dreams.
Four More Years (Dir. Pasqui Rivas)
Glass Sun (Dir. Greg King) - In an experimental take on the Film Noir genre, an impeccably dressed detective is visited by a mysterious woman one night at his office in historic downtown Los Angles, who inspires him to take extreme measures to preserve their 'noir' existence.
Hikikomori (Dir. Josema Roig) - When a young shut-in is forced to leave his apartment, he journeys to make a wish at the Tree of Wishes.
I Walk My Dog (Dir. Peter Bonilla) - Another beautiful day in Southern California.
Los Angeles, It's Where You're Going (Dir. Joe Wesley) - An exciting journey through the attractions of Los Angeles.
Make of LA: Burton Machen (Dir. Stephen French) - Artist Burton Machen discusses the influence of LA on his artwork.
More Than Words (Dir. Andrea Giacomini) - Glimpsing a brighter future, a ride home from school is anything but ordinary for a child and her parents.
Stay (Dir. David Horowitz & Cliff Riffo) - One mans spontaneous excursion to Los Angeles turns into the trip of a lifetime.
Swervin' (Dir. Ryan Pohanic) - A tone poem celebrating the urban core of Los Angeles.
Through The Lens (Dir. Paul Forte) - Angela enjoys a walking tour of LA with her camera.
Uncommon LA (Dir. Kyle Blair-Henderson) - A couple goes on a scavenger hunt searching out what is uncommon in LA.
Unleashed in Los Angeles (Dir. Catherine Pirotta & Seth Leik)
With Love L.A. (Dir. Lexi Johnson) - If LA had a voice, this is what she would say to the artists that inhabit her.
On Location is sponsored by Councilman Tom LaBonge and Mayor Eric Garcetti at the Executive level, and SAG-AFTRA, Sony Pictures Entertainment, Equilibrium Entertainment, Alternative Rentals, and Revelry Event Designers at the Producers Circle level.
More information regarding the 2013 On Location: The Los Angeles Video Project is available on the official website at http://newfilmmakersla.com/onlocation/.
For media credential requests and/or screening passes, contact Jasmine McAtee at publicity(at)nfmla(dot)org.
NewFilmmakers Los Angeles (NFMLA) is a non-profit organization designed to showcase innovative works by emerging filmmakers from around the world, providing the Los Angeles community of entertainment professionals and film goers with a constant surge of monthly screening events. NFMLA provides a forum where filmmakers can be recognized for their contributions, have open audience discussions about their projects and connect with industry professionals for insight on distribution, production, acquisition and representation.