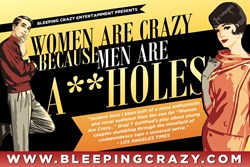 "Seldom have I been part of a more enthusiastic and vocal audience than the one at the Macha Theater for 'Women Are Crazy Because Men Are A**holes.'" -- Los Angeles Times
West Hollywood, CA (PRWEB) September 24, 2013
After a three month sold out run in Chicago, the play 'Women Are Crazy Because Men Are A**holes' came to Los Angeles in July and was met by sold out audiences and critical acclaim from the Los Angeles Times.
It is the story of five couples coming together to celebrate Nicole and Dylan meeting for the first time after two months of magical internet courtship. This is the last reasonable thing any of them will do for the day. Secrets will be screamed, sex will be weaponized, and sanity will have its throat sliced. They are a**holes. They are crazy. Try to love them anyway.
TICKETS
Available at http://www.bleepingcrazy.com. Writer/director Brad T Gottfred's wife is expecting their first child on September 30th. In celebration, a special discount code with his wife's name - DANICA - is being offered for the October shows. Email with any questions.
THEATRE AND SHOWTIMES
The Macha Theatre is located at 1107 N. Kings Road, West Hollywood, CA 90069. There are shows every weekend in October. Please check the website for exact times.
CAST
JOHN WESELCOUCH as Benny, COURTNEY CAMPBELL as Mandy, HOYT RICHARDS as Reynold, DEANNA SMITH as Bella, LANE YUEN as George, NICOLE CALLAHAN as Nicole, CHRISTIAN MONZON as Dylan, JESSA ZARUBICA as Hillary, NIKKI MCKENZIE as Phoenix, JUSTIN SINTIC as Tim.
CHRISTOPHER POWERS as Benny, JJ (Jessica Jayne) NOLAN as Mandy, BLAKE BOYD as Reynold, CHRISTINE DONLON as Bella, BAXTER DEFY as George, MANDY HENDERSON as Nicole, THOMAS SELLWOOD as Dylan, TUNISIA HARDISON as Hillary.
ABOUT THE WRITER/DIRECTOR
Brad T Gottfred wrote, directed, and executive produced the feature film The Movie Hero, starring Jeremy Sisto (Clueless, Six Feet Under) and Peter Stormare (Fargo, Prison Break) which played at over 20 film festivals worldwide, winning numerous awards including First Prize at the Rhode Island Film Festival and the Audience Award at the Austin Film Festival. Called "exactly the kind of film worth seeing because of its individuality and creativity" by Ft. Lauderdale Sun-Sentinel. It was released on DVD by Anchor Bay Entertainment and premiered on Showtime. His second feature, Orgies and the Meaning of Life, was released into theaters and on DVD by Cinema Epoch in September, 2009. It played at a half dozen festivals, including the London Independent Film Festival. Gottfred's first play, Marry, F**K, Or Kill, was called "a guilty pleasure for veterans of the single life" by the Los Angeles Times. It went on to an Off Broadway premiere in the fall of 2011. Brad's first web series, "Sex and Love Conspire to Destroy the World", was just released by MyDamnChannel.