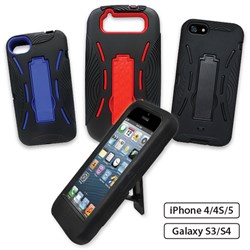 iGear's Slim Tough Case is compatible with the iPhone 5/5S. It provides twice as much drop protection compared with Otterbox's flagship Armor case.
Chicago, IL (PRWEB) September 26, 2013
According to Otterbox's website, the Armor Series, their most protective case for the iPhone, is able to withstand a 10-foot drop to concrete. Although impressive, iGear released a new rugged phone case that offers twice the protection at half the price.
Yes, there have been plenty of drop tests done at 'normal' heights, 3-feet from your pocket, 6-feet from your ear, or even 10-feet in the air just for kicks. But how about throwing a phone from a second floor window, dropping 20 feet to a paved driveway? A recent YouTube video showed exactly that. Not only did the iPhone survive without a scratch, it was recording video the whole time. Watch a video of the ultimate iPhone drop test.
The iGear Slim Tough Case offers multi-layer protection using a soft rubber outer shell and a polycarbonate inner hard case. It is supremely shock absorbent and protects the iPhone from extreme impacts. It also provides good rain and splash protection, while giving the user full access at the same time. The built-in kickstand functions in both vertical and horizontal orientations.
"iGear's Slim Tough Case is built like a tank and offers hands-down the best iPhone protection in the industry," says Jimmy Sun, president of iGearUnlimited.com. "To put my money where my mouth is, I threw my own iPhone in the Slim Tough Case out of a second-floor window, to demonstrate its unmatched durability."
The iGear Slim Tough Case offers unmatched protection for the iPhone 4, 4S, 5, the iPad 2/3/4, and iPad Mini. While Otterbox's Armor case is advertised to have been drop tested at 10 feet at a price of $99.99, the Slim Tough Case offers twice the protection at half the price of $49.99.
The Slim Tough Case is available from iGearUnlimited.com for immediate shipping, and coupon code "pr20" is good for 20% savings for a limited time.
About iGearUnlimited.com
iGearUnlimited.com is powered by Sunrise Digital, an Inc. 5000 company established in 1988 and employs the most advanced equipment and technology, such as G7-certified HP Indigo and UV flatbed presses, and digital die-cutting, to create best-in-class products. A privately-owned enterprise, the company is based in Chicago and sells products worldwide.