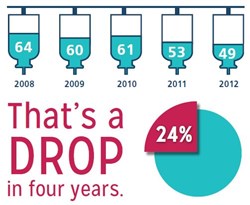 Just 2% of medical school students plan to practice general internal medicine.
South Burlington, Vermont (PRWEB) September 25, 2013
Dr. Alicia Cunningham announces this morning that she has released a new infographic, located at http://www.aliciacunningham.com/why, that explains the "quiet exodus" of internal medicine doctors from the State of Vermont.
The most common question my prospective patients have is "Why can't I see my doctor anymore?" says Dr. Cunningham. "This infographic helps the public understand visually what is happening in Vermont: that the number of physicians practicing general internal medicine here is in steep decline, and it gives a hint of what to expect over the next decade."
For example, the four counties bordering Lake Champlain lost 24% of their internal medicine physicians in just the past four years.
The infographic uses established data sets from organizations such as UVM AHEC and the Vermont Department of Health.
"Excellent internal medicine doctors are an important part of high quality and lower cost health care for the state. But medical students and existing internal medicine physicians make rational decisions and leave the field for other pursuits. That is happening en masse now," remarks Dr. Cunningham. She continues, "All of the work to reform health care is called into question if there are no internists. It's like moving players around on a baseball team with no pitcher; the first baseman may be better, but the exercise is academic."
Vermont has moved from predicting a shortage to seeing it happen. Internal medicine physicians retrain to become sub-specialists, they leave Vermont, they become hospital administrators, they transfer to academic roles part-time, they consult for insurers or medical software companies, or they retire before age 65. Without good internists, quality drops and costs soar.
Seeing this trend nationwide, this summer the American Academy of Family Physicians placed its support behind direct primary care / concierge care medicine, encouraging its doctors to consider this model instead of leaving the field entirely.
Dr. Cunningham continues, "There is no question concierge medicine will help solve the supply problem in internal medicine. It is the one thing I have seen in my career that generates interest from medical students, encourages other doctors to consider internal medicine again, and prevents those that exist from leaving. I am receiving calls from doctors that are considering re-joining internal medicine using this model. "
Dr. Cunningham also release a page on her website providing more detail around the issue, at http://www.aliciacunningham.com/find-a-doctor.
Dr. Cunningham is a graduate of Harvard Medical School, Harvard School of Public Health, and the Brigham & Women's Residency program. She is the first female concierge doctor in the state of Vermont. For those looking to find a doctor, her practice is accepting new patients.