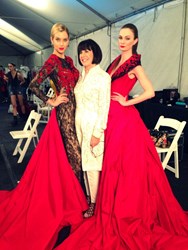 We're delighted to gather such a talented group of Los Angeles designers for our initial fashion event this Fall kicking off LA Fashion Week
Los Angeles, CA (PRWEB) September 24, 2013
á LA Mode Productions is pleased to announce the designers headlining its highly anticipated fashion event "DESIGNER and THE MUSE". Confirmed to showcase their distinct styles at The Sofitel Beverly Hills' Riviera 31 on October 3, 2013 from 6-9PM include Bohemian Society's Victor Wilde, Chagoury Couture by Gilbert Chagoury, Dalia MacPhee, Joe Vilaiwan Fine Jewelry, Gordana Gelhousen and Michael Costello from Project Runway, Lloyd Klein, Louis Verdad, Sue Wong, Michael Vensel, Uriel Saenz, V & G Accessories, and more. Eden Sassoon, the daughter of legendary Vidal Sassoon is the celebrated beauty representative.
"DESIGNER AND THE MUSE" was created to showcase the finest couture and ready-to-wear contemporary Los Angeles based designers with their inspirational "Muses" wearing their singular creations. Spearheaded by Susan Stein, Fashion Editor of Palm Springs Life Magazine, and fashion publicist Dorothy Mannfolk, this exclusive event brings together Hollywood's A-List Designers and their muses with the city's fashion cognoscenti – from editors, photographers and stylists to studio costume department heads and fashion reporters.
The event promises to be an elegant gathering with a red carpet reception, passed hors d'oeuvres, mini cupcakes from Cake Studio LA, courtesy of Charise Events, and complimentary cocktails by Sacacuento Mezcal Premium Tequila and tropical rum drinks from Hula Girl from 6PM to 8PM. Chella Cosmetics will be on hand to demonstrate their wildly popular brow and and eye makeup collection. Luxury European intimate apparel brand, Anita Unique BodyWear will also be present as one of the Title Sponsors. A portion of the evening proceeds from "DESIGNER and THE MUSE" will be donated to Southern California-based Breast Cancer support foundation, Breast Cancer Angels. "DESIGNER and THE MUSE" is merely the first in what Á LA Mode Productions intends to be a series of Los Angeles fashion events highlighting its amazing talents.https://www.facebook.com/ALaModeProductions
ABOUT Á LA MODE PRODUCTIONS
Á LA MODE PRODUCTIONS was co-founded by SUSAN STEIN, Creative Producer of Fashion Week El Paseo (a Palm Springs Life Magazine event) in Palm Desert, CA, and Fashion Editor of Palm Springs Life Magazine. A truly consummate professional with over thirty years of experience in the fashion and retail industries, Susan has not only gained an invaluable insider knowledge and cachet within these fields but has established much deserved recognition for dependable expertise, creative strategies and delivering laudable results. DOROTHY MANNFOLK, Á LA MODE PRODUCTIONS co-founder, began her PR career when she joined a specialty public relations firm handling media relations, special events planning, along with every aspect of accounts servicing for luxury fashion and retail clients. Recognizing a lack of effective public relations representation for the growing west coast fashion and beauty industries, she established Mannfolk Public Relations in 1998. Since then, she has successfully created and developed brand and product awareness for countless fashion, beauty, and lifestyle clients across all media channels.
ABOUT ANITA UNIQUE BODYWEAR
Over 127 years' experience, and a clear eye for quality, function and comfort make Anita Unique BodyWear one of the most authoritative intimate apparel specialists in the world. With a diverse line of products that cater to women of all body types and ages, Anita offers unique products that give women confidence.
ABOUT BREAST CANCER ANGELS
Breast Cancer Angels provides emergency financial and emotional assistance for Southern California families as they are going through breast cancer treatment. Thanks to corporate sponsorship, almost 100% of the donations received will go to help our clients' pay for rent, food, gas, school supplies, COBRA payments, holiday gifts, and much more.