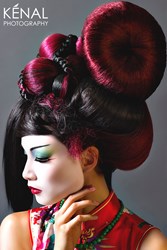 (PRWEB) September 24, 2013
Pierre "Kenal" Louis is an artist born on the island of Haiti. The young aspiring fashion photographer and visual artist based in Omaha, Nebraska looks to catch the world of fashion photography by storm. The talented creative artist in 2013 collaborated with a veteran stylist Omar Rodriguez to bring a memoir of a geisha. Rodriguez have competed in the Las Vegas, Battle of The Strands, styled for many Latin stars including one of Ricky Martin's tour and more. The two collaborated together to bring a very dramatic vision to life of an avant garde geisha.
Together, the stylist of OSTYLES and the fashion photographer shot with a gorgeous Vietnamese model by the name of Nancy Pham. The shoot coordinated by Raechel Dennis was a success and have gained much attention through social networks such as Facebook, LinkedIn, and more. With a dazzling kabuki styled makeup, big hair styled with red highlights the stylist and the photographer created an image that had others talking about the shoot all summer.
According to Kenalsworld in preparation even for the photoshoot the stylist Rodriguez watched the Memoirs of Geisha for inspiration along with doing some research even on the history on Geisha's. According to the Urban Dictionary the author of Geisha; A Life Mineko Iwasaki a former Geisha earlier in her life described the practice of Mizuage as a coming-of-age ceremony, and apparently there was some selling of the virginity that went on in association with that ritual ceremony in the pleasure district a long time ago. This inspired the creative direction of the photoshoot from the start, but the background research made the photoshoot even more pure and to magnify the geisha beauty.
Kenal the fashion photographer is looking for publications to feature the photoshoot in their printed magazines and online editorial blogs along with some of the other fashion photoshoots he created in 2013.
"The response to the avant garde geisha shoot has been great. It has sparked several ideas in me along with Omar to create a sequel avant garde geisha. It is going to be even more dramatic and truthfully I cannot wait to capture something even more surreal. It has been wonderful working with an amazing stylist such as Omar. Now it's just time to keep the momentum going to get the word out about the images and to expose the talent in the Midwest." - Kenal
Kenal is a fashion photographer, visual artist, musician and much more. He hope to continue to create art in various mediums that people will enjoy and be inspired by.
Visit Kenalsworld.com to view more photographs and artwork by the talented artist.
Evenson St. Vil
Kenalsworld LLC
http://www.KENALSWORLD.COM
submission[at]kenalsworld.com
561.351.9224