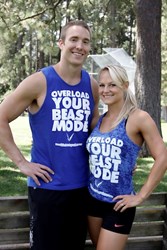 RundleFit's mission is to provide members a sustainable, healthy lifestyle building formula over fad diets and get fit quick programs.
(PRWEB) September 24, 2013
For those thinking about starting a fitness program but unsure of where to begin, RundleFit's new site offers free fitness and nutrition coaching through their online mailing list. Every week one can receive delicious, craving busting recipes, fat burning home workout tips, motivation and overall fitness advice. Current members are expressing their excitement and eager anticipation towards each weekly series and monthly newsletter. Read on to learn more on how to access this priceless offer and who can benefit from it.
Workout Anywhere by RundleFit's mission is to provide members a sustainable, healthy lifestyle building formula over fad diets and get fit quick programs. Generally, these programs produce short-term results, but rarely amount to sustainable outcomes. RundleFit's site and email coaching service is the perfect contrast to this. By implementing new, healthy lifestyle tips each week, one can reap the benefits of constant improvement, which in turn can be a life-altering experience.
Jessica and Justin Rundle are home workout experts, nutritionists, CrossFit athletes and tenured fitness trainers. Their programming has helped countless clients with a variety of fitness goals. In addition, Jessica and Justin powered through their own weight loss journey to create a permanent, healthy lifestyle. Through a decade of research, on the job training and personal triumph, team RundleFit knows what weekly email content is necessary to begin a lifestyle transformation.
They even know how hard it is to stay motivated and consistent when it comes to health and fitness. That is why they have designed their emails to help keep individuals motivated, informed and educated on the latest fitness and nutrition information. Subscribers can expect to receive healthy recipes, myth busters, home workout tips, motivation, membership specials, and Jessica's Monthly Newsletter.
Healthy recipes range from sweet treats, such as healthy brownies and cookies to Jessica' s low carb stir fry, rice paper wraps, steak salad and more. Jessica likes to use whole food ingredients, but also shares on the go recipes for busy schedules.
In addition to the weekly coaching series, Jessica's monthly newsletter is always an entertaining read. She puts tremendous thought and time into it by finding useful content for all fitness levels and goals. Normally one can expect a move and or workout of the month, along with a healthy recipe that has been selected and tested by Kerri (Workout Anywhere's healthy recipe contributor), and an interesting health article that will leave one with valuable information to share with friends and family. Signing up for Workout Anywhere's emails is a great way to stay motivated and keep health and fitness on ones mind.
Having positive encouragement and weekly reminders help one turn healthy into a lifestyle. Don't miss out on Workout Anywhere's free emails. They could be the difference maker in one's health. Signing up is as easy as visiting their site: http://www.workoutanywhere.net and one will receive a gift: Jessica's Three Tips To Start Living A Healthy Lifestyle Today.