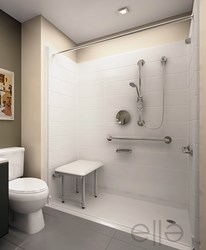 Celebrate autumn by rewarding yourself with a hydrotherapy walk in tub or roll in shower!
New York, NY (PRWEB) September 24, 2013
National supplier of bathing products for the elderly and disabled, Aging Safely Baths announces their fall sales event. This annual promotion will offer shoppers the opportunity to purchase handicap shower stalls and hydrotherapy walk in bathtubs at deeply discounted prices. According to the company, there will be several models with slight aesthetic blemishes that will also go at reduced prices while maintaining a full manufacturer warranty.
This sales promotion also extends to accessory products such as safety grab bars, bathtub lifts, transfer baths and bathtub bath pillows. Customers can also choose from a wide variety of designer ADA grab bars to match the décor of their bathroom.
There are a few important things to look for when buying a walk in tub or wheelchair access shower. Aside from budget, it is essential the footprint of the new appliance fits into the space in which it will be installed. Furthermore, the bather must be able to safely access the bathing appliance. Lastly, it is imperative to have the best warranties, fast parts availability and good customer service to help protect the investment. Furthermore some bathers may not be able to enter into a regular step in tub. In these cases shoppers may want to consider a transfer bathtub or ADA roll in shower with a built in padded seat with legs.
It is important to understand the many differences between the products. Several of the very basic shower pans which can be found almost anywhere, will require additional labor due to the requirement of a wet setting technique. Basically, the insides are hallow and must have a mortar set below them so they don't cave in. Some manufacturers will even recommend a felt material to reinforce the pan. Not only can these products potentially fail to perform or last, but they can increase the installation material expenses.
Aging Safely only offers premium shower pans that are reinforced by a special barrier and plywood. Thus eliminating the need for any wet set when installing. These unique showers are manufactured here in the United States and come with an industry leading 30 year warranty. The gel coat showers come in standard sizes like 30" x 60", 48" x 34" and an extra-large 60" x 36". The packages offered come with 2 ADA grab bars, padded seat, shower wand, water stopper, vinyl curtain, rings, rods and premium shower valves. Multi-piece and single piece showers are available for drop shipping to clients located in the U.S. and Canada.
Low threshold bathing appliances may be ideal for the elderly, senior citizens and people of all ages who have a disability or mobility restriction. The bathroom, especially the bathtub can be a potentially dangerous part of the home. People of all ages can be vulnerable to having a fall in the bathtub or shower. It is important to take the appropriate precautions to try and minimize the risk of having an accident. While there's no perfect solution, some bathers may find independence and assurance with bathtubs that don't have tall sidewalls that are difficult to maneuver over.
Shoppers who would like more detailed information can learn more by visiting the company's website http://www.agingsafelybaths.com or contact a customer care representative at the toll free number below. Furthermore, commercial organizations such as nursing homes, assisted living facilities and long term care centers can qualify for bulk pricing when purchasing multiple units.
Contact Information:
Zach Wennstedt
Toll Free 1-888-779-BATH(2284)
info(at)Agingsafelybaths(dot)com