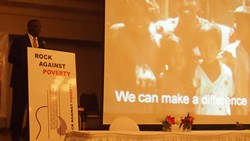 "where real work is clearly being done on the ground which can actually change the lives of millions of desperate kids and their families, and funding shortage hinders the way forward, something urgently needs to be done".
New York, NY (PRWEB) September 26, 2013
September 24, 2013
PRESS RELEASE
Rock against Poverty (RaP) by Vihara Foundation (VF), a global creative fundraising initiative for the cause of Humanity and Mother Earth, has teamed with UNESCO Center for Peace New York and launched their official fundraising drive RaP/VF-UNESCO at a high level side event to the 68th Sessions of the United Nations General Assembly, New York City. The program was in cooperation with the 2nd Annual First Ladies Forum on September 24th.
The first event of Rock against Poverty was in December 2010, Kolkata, India, followed by, Earth Day April 2011, at the 19th United Nations Commission on Sustainable Development (CSD) meetings, New York City; headlining that event was Grammy Award Nominee Trey Lorenz (a long time collaborator of pop superstar Mariah Carey).
This year's event heightened the RaP cause under the new RaP/VF-UNESCO brand, with keynote headliner Dr. Joe Profit, a well respected National Football League (NFL) player from the 1970's and Louisiana's first black football player to play on an all white college in the deep South, (during a post-Civil-Rights-era America); in 1999, Profit was inducted into Louisiana's Sports Hall of Fame, and he currently serves as President of PRO PLAYERS & Entertainers Network. Profit also served as a senior administration appointee under President Ronald Reagan and President Bush, and was named Ernst & Young Business Entrepreneur of the Year (1988) and inducted into the Institute of American Entrepreneurs™ as a life-time member.
At the event, Profit was praised for his lifelong achievements as a sportsman and businessman, and called upon by UNESCO organizers to help the RaP/VF-UNESCO campaign raise critical funds for the cause of urgent poverty and illiteracy, a major challenge still confronting the 2015 UN Millennium Development Goals. Said Profit during his address, "where real work is clearly being done on the ground which can actually change the lives of millions of desperate kids and their families, and funding shortage hinders the way forward, something urgently needs to be done".
Rock against Poverty Humanitarian Awards
Awards for humanitarian work were also presented at the event for activism and grassroots interventions. Receiving awards in absentia were the following: Mr and Mrs. Paul David Hewson (aka Bono of Rock Band U2), for their two decades plus humanitarian and activist work globally and in Africa for fighting extreme poverty and advancing fair trade advocacy; Mrs. Jeaninne Ridoré Baez, a Haitian humanitarian, for her life long grassroots work in aiding and caring for thousands of Haitian Orphans, particularly after the devastating earthquake of Jan 2010; and Mr. Ved Seereeram, a finance professional, farmer, and environmentalist who demonstrated a 100 acre model of reforestation and replenishment of bio-diversity in the small island of Trinidad, Trinidad and Tobago (with benefits of economic value and job creation).
Casting of the first "commemorative" dollar
Joined onstage was the support of Alex Feliciano, Anthony Robbins Foundation, and David Gonla Wu, Former Ambassador Republic of Vanuatu (South Pacific), whom Profit, along with kids, casted the first "commemorative" dollar into the RaP/VF-UNESCO cause. Immediately following, Amb. Wu contributed a pledge of 2000 dollars and words of support and good wishes.
VF-UNESCO Teaming
The drive for RaP/VF-UNESCO was the idea of Ambassador Mme Sire Dione Conde, President, US Federation of UNESCO Clubs, Centers and Association, NYS Chapter, and Franciso Bozzano-Barnes, UNESCO Center of Peace New York Board Member. Ambassador Conde (appointed earlier this year) was commissioned by UNESCO to explore new ideas and innovative work to aid the Post 2015 United Nations Sustainable Development Agenda, which is when she became introduced to the Vihara Foundation, its work and the RaP Campaign.
Funding Appropriations to Current Causes
Funds raised by RaP/VF-UNESCO will feed live development projects on the ground designed to uplift and uproot extreme poverty, foster education and health, and fight climate change. Both VF and UNESCO have significant projects with funding needs.
In the case of VF, a sustainable business model has been developed (The Vihar Project) for attacking poverty at scale in one of the most poverty stricken regions of the world, Bihar/Uttar Pradesh, India. The model prototype, in particular Haiti, set for deployment and eventual replication to other poverty stricken sectors globally, boast of organizing from the grassroots 50,000 hectares of small farmers, use of zero budget natural farming techniques, and integration of sustainable strategies, science and technologies.
The campaign will also support other collaborative causes by other organizations in US and International in support of sustainable development, planet and humanity.
The Underlying Poverty Problem Statement
Said Dennis Ramdahin, VF Founder, at the event, "the problem is that there are too much situations of poverty in this world and not enough resources to deal with them at once (planning, finances, will power and manpower), hence the reason for Rock against Poverty. And where there are resources, there are not enough sustainable interventions, and at times, shortcomings in integrity and continuity. For illustration, I hate when Development Agencies proudly comment "we already thought of that, or, we already doing that", I respond, "if you are, why ain't we seeing it out there, why are the poor people still in desperation and complaining".
About Rock against Poverty and Vihara Foundation
Rock against Poverty is the brainchild of Dennis Ramdahin, Founder and Lead Sustainable Strategist of the Vihara Foundation, a non-governmental organization addressing poverty and climate mitigation issues globally. Musician Dale Stephens is co-founder of RaP. Both Ramdahin and Stephens were born in Trinidad and Tobago.
Vihara Foundation is co-founded by Ambassador Byron Blake, retired Senior Advisor to the 63rd President of the UN General Assembly, G77 and China, and Muriel Glasgow, retired Development Specialist at UNICEF. Work in India is steered by Vijay Sankar Tiwari and Vinod Tiwari, Vihar Project Founders.
Further information of the UNESCO Center for Peace NYS and Vihara Foundation can be found at http://www.unescocenterforpeacenys.org and http://www.viharafoundation.org, respectfully.