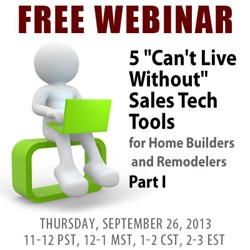 With the proper tools and the proper strategies in place, technology can be a huge asset for any savvy home builder.
Minneapolis, Minnesota (PRWEB) September 24, 2013
In an age where there's a new a new-fangled gadget emerging on the scene every other day, it's no secret that technology is here to stay - and that it will continue to grow in importance, both in personal and business settings. While it's certainly made the world a much smaller place, the dizzying pace at which things are constantly changing is a challenge for many home builders. From almost daily computer updates to new software programs that promise everything from a massive influx of leads to skyrocketing sales, it can often seem downright impossible to keep up. What works? What doesn't? What's worth the time and investment? What's not?
New Home Sales Coach Rick Storlie knows the answers to these questions – and more – and is hosting a webinar on September 26th at 2pm EST to help home builders sort through the hype.
"I see it time and time again: home builders take the plunge, embrace technology and see minimal results," Storlie said. "This webinar analyzes several tech tools on the market and finds the best ones for contractors and remodelers to use. It's set up in a simple, understandable format that anyone will be able to watch and immediately implement."
The webinar will cover the life cycle of the marketing, the sales process and converting leads into sales. It will focus on 5 key real estate areas for success, including lead generation, value creation, prospect identification, making the sale, and management. Storlie will even be showing attendees the specific tech tools needed to simplify and streamline the sales process.
"Instead of builders fearing technology, I want them to start embracing it," added Storlie. "With the proper tools and the proper strategies in place, technology can be a huge asset for any savvy home builder."
"If you want to increase your revenue, this is one webinar you simply cannot miss," Storlie concluded. "In fact, I'll be sharing one tool with attendees that will create a new version of their existing websites, allowing them to easily reach the 20%+ leads using primarily phones and tablets."
"And if that doesn't get you excited, wait til you see what else is in store…"
If you're interested in learning about which tech tools can take your business to the next level, register today for this free webinar, visit https://www2.gotomeeting.com/register/897368426.
About Rick Storlie:
Rick Storlie of New Home Sales Coach has been helping builders and remodelers reach their sales goals since 1992. Rick's Sales and Marketing Library is full of free tips, including generating new leads, realtor strategies, sales techniques and sales management secrets. Storlie can be reached at 952-895-5566 or SellMore(at)GameDayCoaching(dot)com.
For more information about New Home Sales Coach, visit http://www.nhsalescoach.com.