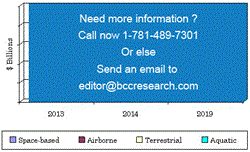 Wellesley, MA (PRWEB) September 25, 2013
According to a new technical market research report, Remote Sensing Technologies and Global Markets from BCC Research (http://www.bccresearch.com), the global market for remote sensing products is expected to reach $7.6 billion in 2013 and grow to $8.1 billion in 2014. BCC Research projects the market to reach $12.1 billion in 2019, and register a five-year compound annual growth rate (CAGR) of 8.2%.
Originally developed for military and intelligence-gathering applications, remote sensing technology makes it possible to examine objects and phenomena using only the target's emitted or reflected radiation. Today, remote sensors have applications in fields as varied as archeology, border monitoring, hydrology and freshwater resources, oil and mineral exploration, and urban and suburban planning. In this 39-country national-level analysis, BCC Research examines the market for remote sensing products from the perspective of their 20 end-user markets, the 10 general types of remote-sensing instruments, and the four types of remote sensing platforms.
Since BCC Research's last study in 2011, several significant events have influenced the demand for information products created from remote sensed data. For example, in the U.S., Congress mandated the opening of the skies to pilotless "drone" aircraft, which is anticipated to radically change the economics for creating remote sensing products from instrumentation operating from airborne platforms. Consequently, the ability to acquire a complete unmanned aerial system (UAS) for what is presently the cost of conducting one mission with a manned aircraft will also reduce the cost of data acquisition.
In addition, increased capability of geographic information systems (GIS) has blurred previous qualitative distinction between very expensive space-based platforms, moderately expensive airborne platforms, and low-cost UAS platforms. GIS software has sped the integration of low-cost and free historic datasets, and the resulting homogenization of historic, recent and real-time data access has reduced the costs of producing remote products.
This report from BCC Research focuses exclusively on products created from platform-mounted remote sensors. It provides a comprehensive overview of the global market for remote sensing technologies and analyzes global market trends, with data from 2012, estimates for 2013 and 2014, and projections of compound annual growth rates (CAGRs) through 2019. In addition, this study discusses remote sensing image analysis techniques and forecasts the demand for remote sensing products by region, instrument by application, and platform by application. Remote sensing patents, including patent abstracts, names of the inventors, and original patent assignees are also reviewed. Finally, this report provides information on the major organizations that form and support the global remote sensing community and provides comprehensive company profiles of the industry's major players. In this edition, regional forecasts that appeared in previous studies have been replaced with nation-level forecasts for the 39 countries in which 2019 product demand is expected to surpass $40 million.
BCC Research reviewed more than 700 companies to obtain data for this study. It also reviewed reports and studies prepared for peer-reviewed professional literature, and reports by the technical staff of the National Aeronautics and Space Administration (NASA), the National Oceanic and Atmospheric Administration, the Department of Energy (DOE), the U.S. Geologic Survey (USGS), the Environmental Protection Agency (EPA), as well as their foreign counterparts. The report includes forecasts presented as a series of 100 tables, organized by country, and 20 end-user markets.
This study will be of interest to executives and investors in industries serving the 20 end-user application areas that define the remote sensing market and manufacturers and marketers of remote sensing instrument and platforms. It will be equally useful for decision makers for national and state governments, multinational organizations, and nongovernmental organizations (NGOs).