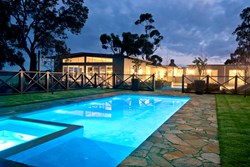 Melbourne, Victoria (PRWEB UK) 30 September 2013
A swimming pool can be an asset to any property, one that can boost the value and appearance of the home and provide years of family fun. It also generally represents a fairly hefty financial outlay; while the return on your investment will be considerable, it's important you don't leave anything to chance when it comes to pool planning and installation.
Concrete pools:
Concrete swimming pools are created by pouring concrete into a shaped mould; once the concrete hardens, it is ready for treatment and then for water.
If flexibility in design is important, a concrete pool may be the best option for you. Concrete pools can be built in just about any location, in just about any size and shape. You can include other design features with a concrete pool – split levels, small islands or even a disappearing edge. You can also choose from a variety of different interior finishes, such as paint, fibreglass, pebblecrete, marblesheen or vinyl tiles.
Of course, there is a trade-off for all this design freedom - the process of installing a concrete pool can be a little more complex than other pool types. Concrete pools tend to be a little more expensive than other options, and installation often takes a number of weeks.
Fibreglass pools:
Fibreglass swimming pools come ready-made in pre-formed shells. The ground is worked around the shape of the pool shell, not the other way around as is the case with a concrete pool. This means that you can actually see the pool before you buy it, but it also limits your options in terms of design. That said, fibreglass pools do come in a range of shapes, sizes and colours that you can choose from.
While fibreglass pools may not afford you as much flexibility as concrete, the installation time is considerably less; a fibreglass pool can be ready-to-go in as little as a week. Easy maintenance is another key feature – fibreglass pools are covered in a non-porous coating that makes them resistant to algae.
Ultimately, the best way to figure out whether you should choose a fibreglass or concrete pool is to consult with an expert. Call Integrated Pools today to get a no-obligation, free quotation on your swimming pool project, or have a look through our gallery to get an idea of the kind of work we do.