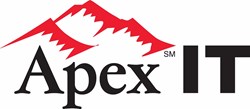 San Francisco, CA (PRWEB) September 25, 2013
Apex IT, a Platinum level member of Oracle PartnerNetwork (OPN), today announced that it has achieved OPN Specialized status for Oracle Fusion Customer Relationship Management (CRM).
To achieve OPN Specialized status, Oracle partners are required to meet a stringent set of requirements that are based on the needs and priorities of the customer and partner community. By achieving a specialized distinction, Apex IT has been recognized by Oracle for its experience in delivering services specifically around Oracle Fusion Customer Relationship Management through competency development, business results and proven success. In addition, there was testing on topics such as: Common CRM Configuration, Lead Management, Opportunity Management, Territory Management, Quota Management and Forecasting.
The successful completion of the requirements earned Apex IT the distinction of being specialized in Oracle Fusion Customer Relationship Management 11g. This Specialization can give Apex IT a competitive edge in the marketplace because it shows a strong foundation and proven expertise in implementing Oracle Fusion Customer Relationship Management Sales.
Apex IT has consistently been a leading Oracle Fusion Customer Relationship Management partners, having worked with eight companies on their Oracle Fusion implementations. "Adding this Specialization shows how invested we are in educating our team to make sure we continue to be leaders in the industry," said Chris Rapp, CEO. "We look forward to applying our knowledge and experience to future projects."
"This Specialization for Oracle Fusion Customer Relationship Management is a way for partners to differentiate themselves in the marketplace," said Terri Hall, Group Vice President, North America Sales, Alliances and Channels - Applications and Systems Integrators, Oracle. "We congratulate Apex IT on this achievement, and look forward to working together on new projects in the Oracle Sales Cloud."
About Apex IT
Founded in 1997, Apex IT has grown continuously, but the mission has stayed the same: to help public sector, corporate, and higher education clients use technology to streamline their processes and increase productivity and profitability. To date, Apex IT has completed more than 1,250 engagements around the globe, helping clients with everything from strategic guidance to implementation to long-term direction. Apex IT is dedicated to staying ahead of the competition in offering clients the People, Processes, and Technologies that will meet their changing demands.
About Oracle PartnerNetwork
Oracle PartnerNetwork (OPN) Specialized is the latest version of Oracle's partner program that provides partners with tools to better develop, sell and implement Oracle solutions. OPN Specialized offers resources to train and support specialized knowledge of Oracle products and solutions and has evolved to recognize Oracle's growing product portfolio, partner base and business opportunity. Key to the latest enhancements to OPN is the ability for partners to differentiate through Specializations. Specializations are achieved through competency development, business results, expertise and proven success. To find out more visit http://www.oracle.com/partners.
Trademarks
Oracle is a registered trademark of Oracle and/or its affiliates.
Contact:
Nicole Nagel
Apex IT
(715) 305-6975
nicole.nagel(at)apexit(dot)com