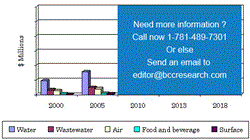 Wellesley, MA (PRWEB) September 26, 2013
According to a new technical market research report, Ultraviolet (UV) Disinfection Equipment: Major Applications and Global Markets from BCC Research (http://www.bccresearch.com), the global market for ultraviolet (UV) disinfection equipment was valued at $790 million in 2010 and is expected to reach $1.1 billion by 2013. BCC Research projects the market to reach nearly $2.1 billion by 2018, and register a five-year compound annual growth rate (CAGR) of 13.1%.
The use of ultraviolet (UV) light for disinfection has been practiced for more than 30 years, but the technology has expanded from a niche market to hold a significant share of the disinfection equipment market only in the last decade. Water and wastewater treatment equipment is the largest and one of the fastest growing sub-segments of this market.
UV light is one of the advanced treatment technologies known for their improved effectiveness against a range of contaminants found in source water. Their decreased production of waste, non-hazardous properties, diminished demand for chemical additives, and sometimes their lower energy requirements has resulted in achieving a high market growth rate for the technology.
The need to meet regulatory standards is the primary issue in selecting potable water treatment plants for municipal, residential, and bottled drinking water. The most important market drivers are mandatory rulings imposed by national governments to protect the safety and health of their populations from waterborne disease. In the U.S. and around the globe, utilities are required to disinfect drinking water to eradicate microbes such as Cryptosporidium and Giardia. These pathogens are chlorine-resistant, and can be destroyed only by UV and other advanced technologies. According to BCC Research, the global market for ultraviolet (UV) light disinfection equipment is being driven by legislation, manufacturing needs, consumer demand, and a desire by individuals, communities, and industries to adopt environmentally sustainable disinfection methods.
This report from BCC Research provides an overview of the technological aspects of air, water, and surface treatment via UV light as well as an analysis of the market for UV equipment sold in five different end uses: water (municipal and residential drinking water, pool and spa water, water aquaculture, and industrial process water), municipal wastewater, air, and the disinfection of foods and beverages and surfaces. A discussion of the UV industry's structure and brief profiles for major participating companies also are included.
In addition, this comprehensive analysis discusses the market by world region, including overviews of North America, Europe, Asia, and the rest of the world. Present market status and policies and incentives that support the industry are also given for each country. All market valuations and projections presented in this report cover the years 2000 to 2018.
This in-depth report is intended for senior marketing personnel, venture capitalists, executive planners, research directors, government officials, and suppliers to the industry who want to discover and exploit current or projected market niches. In addition, this study will benefit companies with system and plant components, ancillary equipment, and related products and services, including manufacturers and suppliers of UV lamps, ballasts and other system components and peripherals, UV sensors, and monitoring systems as well as providers of associated services.