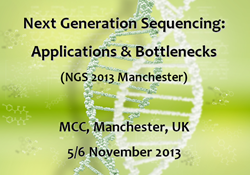 The NGS 2013 Manchester conference will have a strong emphasis on networking, giving plenty of opportunity for attendees to discuss common issues and exchange ideas
Manchester, UK (PRWEB UK) 26 September 2013
The aim of this conference and workshop is to foster an international NGS user network that shares an interest in technological advances in clinical diagnostic testing, whilst also keeping informed about and contributing in other NGS application areas.
NGS is being increasingly implemented in Clinical Genetics laboratories. This conference will include workshops in areas such as novel target enrichment, Bioinformatics data analysis and other topics. The speakers will provide an overview of how NGS is being used in different diagnostic applications including NGS panels and Exome sequencing. Bioinformatic data analysis remains an ongoing bottleneck in NGS and this event will show-case a unique example of data analysis from the vast bacterial populations that reside in the guts of mammals. Speakers and workshop instructors will also cover how the NGS data is used to show DNA variations and how these variations can be used to predict functional effects associated with disease. In a clinical setting it is important to set rigorous quality standards for such a new diagnostic tool; conference speakers will look at these quality aspects and their consistency across different European laboratories. As different clinical laboratories are increasingly using different NGS platforms and software it is timely to review and compare these tools.
Speakers include Prof. Tim Aitman, Dr Anneke Seller, Dr Simon Patton and others. Please take a look at the agenda to view the full line up of speakers as well as the topics being covered: http://conference.biotexcel.com/ngs-2013-manchester/invited-speakers-program/
The NGS 2013 Manchester conference will have a strong emphasis on networking, giving plenty of opportunity for attendees to discuss common issues, exchange ideas and initiate collaborations. A number of international initiatives were facilitated by bioteXcel during its previous conference.
If you are interested in attending the conference and workshops please contact Elisabetta Fineschi and ask about available discounts on the registration fee.
This conference is sponsored by Amplexa Genetics, BD Biosciences, Bioprodict, IDT, Nanostring, Source Bioscience, Poly Pico Ltd, Protein Technologies, VHBio with media partners being BlueSEQ and Dojo Interactive.
Paul Denny
Gene-Effects