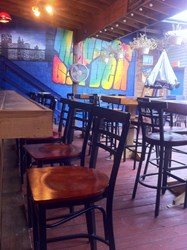 Richmond, KY (PRWEB) September 24, 2013
Leading commercial furniture distributor, Restaurant Furniture.net recently teamed up with popular, Richmond, KY restaurant and bar Madison Garden to renovate their interior and provide them with quality tables and bar stools.
Madison Garden was established in 1982 by Tom and Steve Thilman of New York City. They started as a bar that just served can beer and they have evolved into a full service bar and restaurant. The brothers have been serving great food and drinks with an Italian twist at a New York pace for 32 years now non stop! They are a highly respected establishment in Richmond.
They serve classic American bar food with an Italian twist. Everything from "Almost" New York pizza and special dry rub wings to steak and pasta. Their most popular menu item is by far our dry rub wing. Made with the owner's very own secret recipe. They have nightly specials throughout the week for both our dinner crowd and bar crowds. They feature different events every night such as build your own burger on Wednesdays and stir fry on Thursdays, beer pong on Tuesday nights and live music every Friday and Saturday. They have trivia on Sundays and we are the only bar that is open in downtown Richmond, KY on Sundays. They always show all of the NFL games on Sundays.
On May 5 this year they added a brand new patio bar and they to renovate the back sections of our restaurants. Madison Garden needed sturdy tables and bar stools that can withstand heavy traffic. The owner placed a large order of table tops, table bases and bar stools from Restaurant Furniture.net. General Manager Jansen Lenzi and the owners of Madison Garden chose Restaurant Furniture.net because of their reputation for high quality commercial furniture, low prices and excellent service.
They decided to order reversible table tops in Oak and Walnut finish with X prong bases for their new tables. The reversible tables tops, which are a popular choice for many types of restaurants come in 5 different sizes and also comes in mahogany and black. They sell on Restaurant Furniture.net starting at only $21.
For seating, the owners decided to go with classic Ladder Back Metal Bar Stools in black frame finish with dark mahogany solid wood seats. These metal bar stools are perfect for busy bars such as Madison Garden. The frames come in black, silver, gold, copper, silver vane and gold vane and are currently on sale for only $51. Customers can choose wood seating in 6 standard finishes or padded seating made of vinyl or fabric with many options. Restaurant Furniture.net can also make a custom finish for the wood seat, and a padded seat can also be custom made in any material.
Browse Restaurant Furniture.net's full selection of commercial grade chairs, bar stools, table tops, table bases, booths and patio furniture at http://www.restaurantfurniture.net or talk to a customer service representative at (888) 409-1115.
Madison Garden is located at 152 North Madison Avenue in Richmond, KY. They can be contacted at (859) 623-9720 or you can visit their website at: http://www.madisongarden.net.